NYCB's Fall Gala features high fashion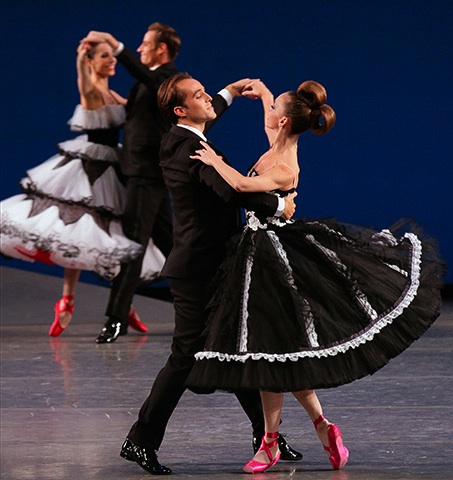 New York City Ballet's annual Fall Gala will once again celebrate ballet and fashion with a program that will include three world premiere ballets as well as existing works by Peter Martins and Christopher Wheeldon, all featuring costumes designed by an international roster of some of the fashion world's most renowned talents. The exclusive gala will take place the evening of Tuesday, September 23, opening NYCB's four-week Fall Season at the David H. Koch Theater at Lincoln Center.
This year's gala program will present world premiere ballets by three exciting young choreographers, including: Justin Peck, a NYCB Soloist and the company's newly named Resident Choreographer, who will collaborate with London-based Greek fashion designer Mary Katrantzou; British choreographer Liam Scarlett, who will work with Sarah Burton, the British designer who is creative director of the Alexander McQueen brand; and NYCB corps de ballet member Troy Schumacher, who will make his NYCB choreographic debut in collaboration with New York-based designer Thom Browne.
The evening will also feature Peter Martins' 2001 work Morgen, with all-new costumes by the world-renowned luxury womenswear designer Carolina Herrera, as well as Christopher Wheeldon's This Bitter Earth, which premiered at the company's 2012 Fall Gala featuring costumes by the legendary couturier Valentino Garavani.
The gala evening will take place at NYCB's home at Lincoln Center for the Performing Arts, the David H. Koch Theater, and will launch NYCB's Fall Season, running from Tuesday, September 23 through Sunday, October 19. All five ballets on the September 23 gala evening will also be performed on: Thursday, October 2; Tuesday, October 7; Thursday, October 9; and Saturday, October 11.
Sarah Jessica Parker, the actress, producer and philanthropist who is a Vice Chair of the NYCB Board of Directors, will serve as a chairman for the event for the third consecutive year. She has been instrumental in bringing together the worlds of ballet and fashion. Other chairmen for the 2014 Fall Gala include jewelry artist Cindy Chao, fashion advertising executive Trey Laird and his wife Jennifer, and JPMorgan Chase & Co. Chief Financial Officer and NYCB Board Member Marianne Lake.
The festivities will begin with a champagne reception at 5:30 p.m., followed by a 7 p.m. performance, and will conclude with a stylish black-tie supper ball. For more information or to reserve tickets, visit nycballet.com or call 212-496-0600.
Photo: Jared Angle and Maria Kowroski in Bal De Couture. Photo © Paul Kolnik.