NYTB presents 'Legends and Visionaries'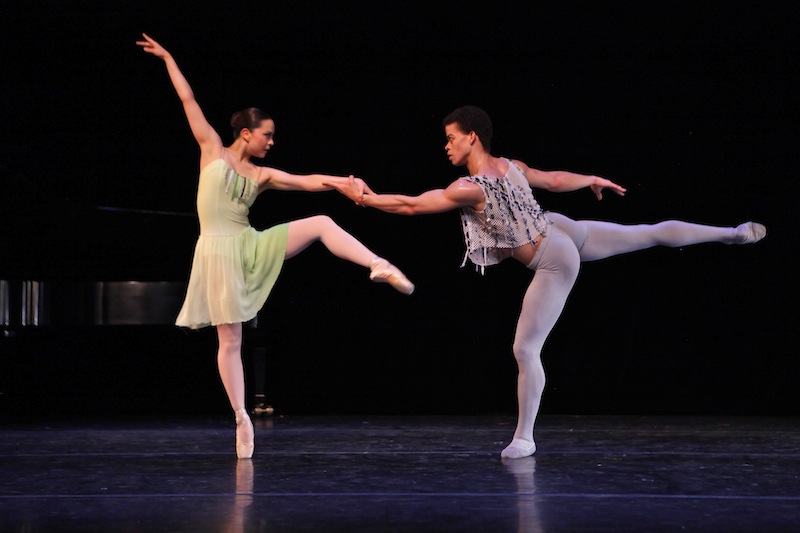 New York Theatre Ballet presents the second installment of Legends and Visionaries: Program B this Friday and Saturday, March 22 and 23, at 7 p.m. in New York City. The evening features works by Richard Alston, Antony Tudor, James Waring and a world premiere by Gemma Bond, commissioned by the company.
Choreographer Richard Alston's A Rugged Flourish is set to Aaron Copland's Piano Variations and will be performed to live music. This piece was choreographed for NYTB and originally premiered in 2010. As Mr. Alston describes, "Copland's Piano Variations have a brave stony rigour, repeatedly ringing out in grand gesture. A Rugged Flourish portrays a young hero's courage and determination – strong enough to be alone, yet all the stronger for eventually accepting the company."
Gemma Bond's world premiere Silent Titles takes its inspiration from silent films. With music by Louis Moreau Gottschalk, the ballet reflects the elegance of the silent movie age with black and white costumes and piano music played live on stage.
In Antony Tudor's Dark Elegies, considered by many to be his greatest work, he depicts a community in mourning. Set to Gustav Mahler's Kindertotenlieder, the choreography leaves the nature of the disaster unspecified while portraying almost palpable grief.
Next, in the first of two works by James Waring, An Eccentric Beauty Revisited will take the stage. Inspired by Nijinsky's Le Dieu Bleu (1912) and danced to Erik Satie's La Belle Excentrique, the work will feature a composition for piano performed live. The intricate hand-painted costume by Sylvia Nolan is based on the original Leon Baskt design for Nijinsky. NYTB will be using Waring's original hand-beaded mask.
Waring's Feathers, on the other hand, is a solo work choreographed for Raymond Johnson, who first performed the dance at the University of California Santa Cruz on July 6, 1973. The music is excerpts from Mozart's quartets for flute and strings in G major and D major. The dance is dedicated to Barbette, the American transvestite trapeze artist who lived from 1899 to 1972. Eulogized by Jean Cocteau and photographed by Man Ray, Barbette was one of the greatest stars of the French music-hall.
In addition, the evening will include a talk titled Between the Acts: Conversation on Dance. It will feature Valda Setterfield, renowned British born dancer and actor, and David Vaughn, past archivist of the Cunningham Dance Foundation.
Legends and Visionaries: Program B will be presented at Florence Gould Hall, located at 55 East 59th Street in New York City. Tickets start at $30 and are available for purchase at www.ticketmaster.com or by calling 800-982-2787.
For more information on NYTB's current season, visit www.nytb.org.
Photo: Rie Ogura and Steven Melendez perform Richard Alston's A Rugged Flourish. Photo courtesy of NYTB.