OBT ends season with Balanchine celebration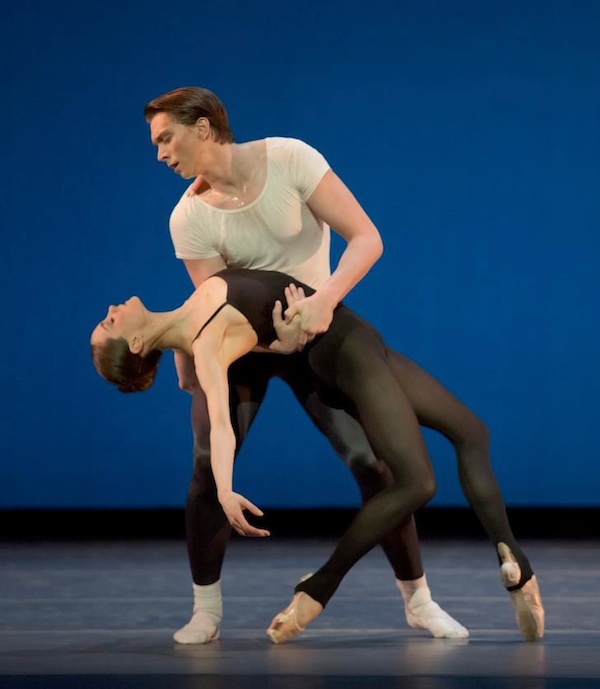 Oregon Ballet Theatre wraps up a very dynamic season with an evening dedicated to a 20th century master, George Balanchine. On the 30th anniversary of Balanchine's death, OBT celebrates the diversity of his contribution to dance with three different examples of his prolific choreography. Balanchine was by turns nostalgic and innovative and the audience will catch a glimpse of the immense depth of his 60-year career as a choreographer.
Opening Friday, June 14, the performances will begin with the return of the spirited and inventive Square Dance, a piece that layers the complex geometries of traditional western partner dancing with the elegant architectures of chamber music by Antonio Vivaldi and Arcangelo Corelli. This was a crowd favorite when OBT debuted it in 2011.
Prodigal Son, a renowned 1929 collaboration with modernist painter Georges Roualt and composer Sergei Prokofiev, is both one of Balanchine's earliest and most adventurous works, pulling pathos and passion out of the bible parable. This iconic work will be a company premiere and adds the 17th Balanchine ballet to the OBT repertoire.
Closing the program will be Balanchine's love letter to his mentor and creative partner in Stravinsky Violin Concerto. Stravinsky Violin Concerto is set to Stravinsky's 1931 Concerto for Violin and Orchestra in D major. Stravinsky's music feels historic yet also intensely modern in its drive and energy and Balanchine responded naturally to it almost 50 years later creating a dance full of crisp complexity and angular shapes. This piece was one of the last pieces he choreographed before his death and is a fitting end to this eclectic celebration.
OBT's performances of Celebrating Balanchine open Friday, June 14 at 7:30 p.m. and run for only four performances through Sunday, June 16. For complete show times, go to www.obt.org. Tickets start at just $23 and a "Pay Your Age" discount is offered for all patrons under 35 years old. Call 503-227-0977 for more information.
Photo: Oregon Ballet Theatre Principal Dancers Brett Bauer and Grace Shibley enact an emotional moment inspired by Igor Stravinsky's relationship with his wife, Vera, in George Balanchine's Stravinsky Violin Concerto, one of three works on OBT's program Celebrating Balanchine. Photo by Blaine Truitt Covert.