Oklahoma City Ballet presents triple bill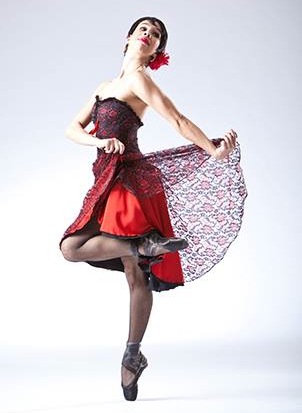 Oklahoma City Ballet will present a triple bill evening of dance featuring Jacob Sparso's Carmen, the Oklahoma premiere of George Balanchine's Rubies and a world premiere ballet by award-winning choreographer Matthew Neenan. OKC Ballet performs this program on February 7-9 at the Civic Center Music Hall in downtown Oklahoma City.
This sensational triple bill program is headlined by a new world premiere ballet Carmen. Inspired by the novella by Prosper Mérimée and using music arranged from the Bizet opera of the same name, Carmen tells the story of the downfall of Don José, a naive soldier who is seduced by the wiles of the fiery gypsy Carmen. Ballet Master Jacob Sparso brings his unique ability to weave intricate stories into exciting choreography for this dramatic ballet.
Also on the program is 20th century master choreographer George Balanchine's Rubies. Danced to the music of Stravinsky, which epitomizes the long-term artistic relationship between Igor Stravinsky and George Balanchine, Rubies is inspired by the work of jewelry designer Claude Arpels. Rubies reveals the spirit, color and fundamental nature of the jewel itself through dazzling choreography and music.
Rounding out the performance is a world premiere from Pennsylvania Ballet Resident Choreographer Matthew Neenan. Neenan has received numerous awards for his choreography including the National Endowment of the Arts and the Choo San Goh Foundation. His work has been performed by the Pennsylvania Ballet, BalletX, The Washington Ballet, Colorado Ballet, Oregon Ballet Theatre and New York City Ballet's Choreographic Institute.
"This is the performance to see this season and it is the one I am most excited about," says Oklahoma City Ballet's Artistic Director Robert Mills. "Matthew Neenan is brilliant in his ability to push the boundaries of classical ballet to create new work, our acquisition of Balanchine's Rubies speaks to the technical prowess of our dancers, and I am confident that our own Jacob Sparso will provide us with yet another engaging story ballet with Carmen. Our triple bills always provide a variety of choreographic ideas and music, and this program is no exception."
Oklahoma City Ballet's triple bill performance of Carmen, Rubies and Matthew Neenan's new ballet opens Friday, February 7 at 7 p.m., with additional performances Saturday, February 8 at 8 p.m., and Sunday, February 9 at 2 p.m.
Single tickets start at $25 and are on sale now. For more information, visit www.okcballet.com.
Photo courtesy of Oklahoma City Ballet.