Open call for 'The Table of Silence Project'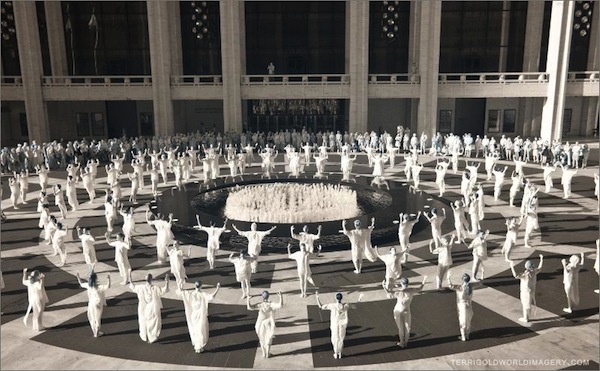 Steps on Broadway, Buglisi Dance Theatre, Dance/NYC, The September Concert and the New York City dance community have come together to facilitate and support The Table of Silence Project 9/11, a ritual dance movement for peace to commemorate the 12th anniversary of September 11, 2001. Called "a gift of dance to the city" by Wall Street Journal, this free, public tribute will take place on the Josie Robertson Plaza at Lincoln Center on Wednesday morning, September 11, 2013 and be seen via live stream throughout the world.
Conceived by choreographer Jacqulyn Buglisi and Italian artist Rossella Vasta, the work presents an opportunity for the NYC community to gather and, through the universal language of movement, offer a transcendent prayer for the city and the world transformed by the events of September 11th.
Participants will include dancers from Buglisi Dance Theatre, The Juilliard School, the Martha Graham Center of Contemporary Dance, The Ailey School, National Dance Institute, Dance Theatre of Harlem, Ballet Hispanico, Steps on Broadway, Broadway Dance Center and Peridance Capezio Center.
An open call for 100+ dancers who have stage experience has been announced. Auditions will be Tuesday, August 13 from 9 to 11 p.m. and Wednesday, August 14 from 9 to 11 p.m. Call backs will be on 
Thursday, August 15 from 9 to 11 p.m. The auditions will be held at Steps on Broadway, located at 2121 Broadway at 74th Street on the third floor.
To audition, dancers must register by August 5. They must send an email with the subject line of "Table of Silence Project 9/11 – Steps" to Buglisi@buglisidance.org with: full name, telephone number, dance photo and resume. Dancers will receive a confirmation email from Buglisi Dance Theatre if they are invited to attend the open call auditions.
Rehearsals for The Table of Silence Project 9/11 will be: Monday, August 19, 11 a.m. to 3 p.m.; Wednesday, August 21 and Thursday, August 22, 4 p.m. to 6:30 p.m.; and Monday, August 26, Wednesday, August 28 and Thursday, August 29. September rehearsals are to be announced. All times are subject to change.
The performance of The Table of Silence Project 9/11 will be presented Wednesday, September 11 from 8:15 to 8:46 a.m. at the Lincoln Center for the Performing Arts.
Jacqulyn Buglisi said, "The Table of Silence Project represents the common threads of humanity which unite all mankind into a single force with common goals and aspirations regardless of race, culture or religion. Through this event, we wish to achieve the dual purpose of celebrating and honoring peace, through listening, a united moment of silence – a call for Peace in our world."
For more information, call 212-719-3301 or visit www.buglisi-foreman.org.
Photo: A past performance of The Table of Silence Project 9/11. Photo by Terri Gold.