Oregon Ballet Theatre announces 25th season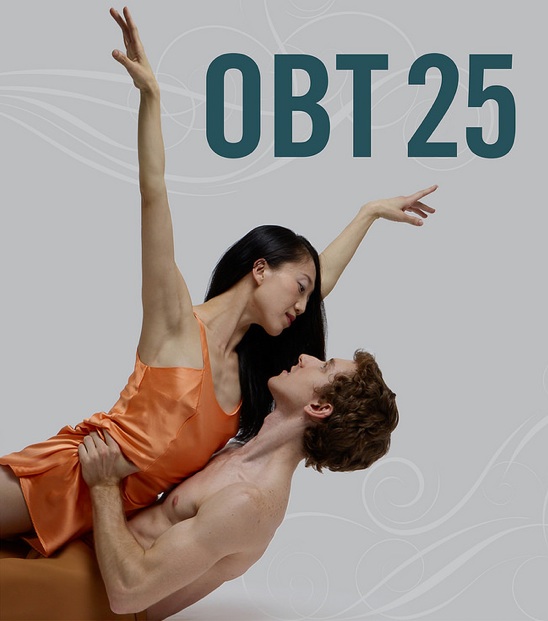 The 2014-15 season marks a milestone for Oregon Ballet Theatre as it celebrates a quarter century of entertaining, exciting and inspiring audiences in Portland and around the world. The 25th anniversary season will also be the first programmed solely by Artistic Director Kevin Irving, who joined OBT in July 2013. Irving fills the season with nods to an impressive past while offering a clear vision of the company's bright future.
The program OBT 25 will open this year of celebration on October 11-18 at the Keller Auditorium. For the first time in more than 12 years, George Balanchine's athletic contest for eight women and four men, Agon, will appear on the OBT stage. Created in 1957 and set to an original score by Balanchine's frequent collaborator, Igor Stravinsky, Agon's experimental nature remains fresh and challenging, even over half a century later. In tribute to three choreographers who have shaped OBT to date, the program includes Love x 3, featuring pas de deuxs by former Resident Choreographer Trey McIntyre, former Artistic Director Christopher Stowell and for the first time since 2003, the work of Founding Artistic Director James Canfield. The capstone of this program covering past, present and future will be a world premiere for the whole company by Portland favorite Nicolo Fonte, set to live music.
Of course, no holiday season is complete without at least one viewing of George Balanchine's The Nutcracker. In recent years, Portlanders have shown just how much they enjoy this grand tradition, and the company has responded by adding two performances after Christmas to ensure visiting friends and family have a chance to share in the wonder of little Marie's larger-than-life adventure. Six performances will feature the stellar OBT Orchestra. A total of 17 shows of The Nutcracker will be presented between December 13 and 27 at the Keller Auditorium.
In addition, there's no time like the 25th anniversary to add a full-length ballet to the company's repertoire. On February 28–March 7, 2015, audiences can enjoy the company premiere of Ben Stevenson's Cinderella. Colorful and full of magic, Stevenson's version of this classic tale is one of the ballet world's most popular, performed by companies world-wide including American Ballet Theatre and Queensland Ballet of Australia.
Wrapping up the mainstage programming for the season is Impact at the Newmark Theatre on April 16–25, 2015. Focused on the power of the relationship between audience and performer, patron and ballet company, OBT presents three striking works. The company premiere of Nacho Duato's compelling Rassemblement, set to the songs of Haitian artist Toto Bissainthe and inspired by the strength and resistance of slaves longing for a home where they could be free from oppression, offers a chance to see OBT's dancers at their most emotionally bare. OBT also ties its past to its future with performances of Crayola, choreographed by Dennis Spaight, the company's first resident choreographer. Signifying a bright new direction for OBT's current Professional Division and Apprentice programs, the organization will launch the newly established OBT II with this work. Rounding out this exciting program will be a world premiere by Darrell Grand Moultrie, a Princess Grace Choreography Award winner.
For more information on OBT's exciting 25th season, visit www.obt.org.
Photo: Oregon Ballet Theatre's 25th Anniversary Season poster image, featuring Haiyan Wu and Brian Simcoe in James Canfield's Romeo and Juliet, one of five works on the OBT 25 program running October 11-18. Photo by Tatiana Wills.