Oregon Ballet Theatre leaps down rabbit hole
Oregon Ballet Theatre has been drawing record-breaking crowds this season, first with its fall show Rhapsody in Blue and then with George Balanchine's The Nutcracker in December. Now the company prepares for its most ambitious project yet, the West Coast premiere of Septime Webre's ALICE (in wonderland) – a highly athletic and vibrant production that brings the Lewis Carroll classic to exuberant life through dance. The production boasts choreography, costumes and sets on a Cirque du Soleil scale, an original score from composer/ violinist Mathew Pierce to be performed by the OBT Orchestra, and a cast of nearly 100 dancers – including 50 students from the OBT School.
"It's a huge undertaking and requires our whole team to pull out all the stops," said OBT Artistic Director Kevin Irving. "I'm delighted to be sharing this spectacular work with Portland!"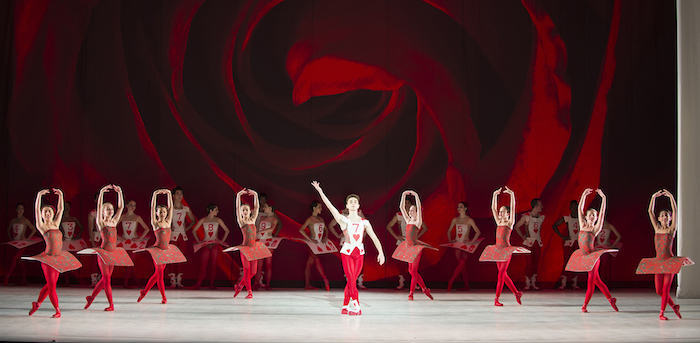 Choreographer Septime Webre was Artistic Director of Washington Ballet in 2012 when ALICE premiered at The Kennedy Center to enthusiastic reviews. The Washington Post called it "…a giddy parade, a pop-art dream, a feat of fevered imagination." Webre's vision draws broad brushstrokes of Carroll's work, harnessing the whimsical and familiar elements and personalities of both Alice's Adventures of Wonderland and Through the Looking Glass. These characterizations are enhanced by Liz Vandal's costume design. Vandal, whose work was featured in Cirque du Soleil's Ovo show, created nearly 130 highly theatrical costumes for ALICE.
"I think Septime came to me because he knows I'm a bit crazy," Vandal said. "And he likes to innovate."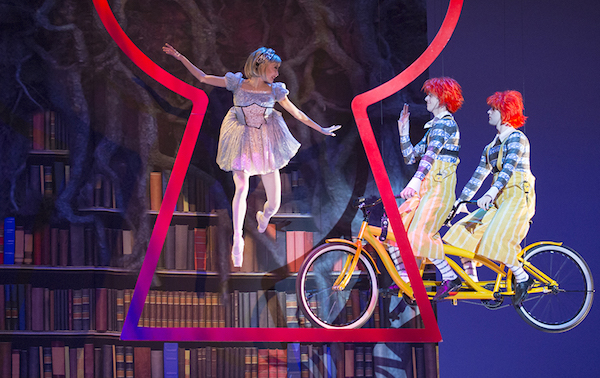 Beyond the extravagant set and costumes, it is the challenging choreography – a mix of ballet and acrobatics – that brings ALICE to life and makes it appealing to both novice and experienced ballet goers. Onstage – and at times flying high above it – from start to finish, ALICE is a real tour de force role for a dancer. The many whimsical cameo roles offer challenges too, as dancers must navigate between making technical feats look effortless and finding the right mix of sauce and charm in their portrayals. Irving and company are up for the challenge though.
"ALICE is the perfect vehicle to show off the considerable skills and artistry of the Oregon Ballet Theatre dancers," observed Irving. "We can't wait!"
ALICE runs February 24 – March 4 at Keller Auditorium, with tickets starting at $29. Visit www.obt.org for more information.
Photos by Media4Artists and L. Theo Kossenas, courtesy of Washington Ballet.