Oregon Ballet Theatre opens 25th season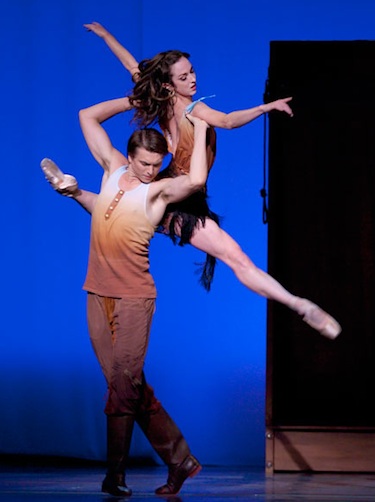 Oregon Ballet Theatre will open its 25th season with a special program including a world premiere collaboration between choreographer Nicolo Fonte and Portland's favorite "little orchestra", Pink Martini.
Sharing the stage with the dancers in the first ever full-scale collaboration between the two groups, Pink Martini's lead singer China Forbes will perform alongside the new ballet, titled Never Stop Falling (In Love). The ballet was inspired by Fonte's eagerness to create an unforgettable experience for the audience that will reveal new facets of both groups and the performers in them.
Opening Saturday, October 11 at the Keller Auditorium, the celebratory program will continue for five performances through October 18.
Fonte explains, "The songs themselves run the gamut from being about love, life and loss – so I suppose in very general, broad terms, the intellectual and emotional themes that are inspiring me for this work are joy, playfulness, tenderness and mystery."
The piece will include iconic Pink Martini songs, as well as some brand new material, in order to create a "quintessential Portland event that is celebratory and accessible, while staying true to the ideals and integrity of the art form of ballet in the 21st century."
Adding to the local flavor of the piece, Portland-based designer and Project Runway winner Michelle Lesniak will create original costumes for Never Stop Falling (In Love).
Opening the OBT program is George Balanchine's 1957 Agon, a plotless ballet for 12 dancers with a complex 12-tone score by Igor Stravinsky. It made headlines at the time for both its eroticism and bold interracial casting. Sinfini music writer Jenny Gilbert wrote, "In the ballet's climactic pas de deux – an almost icily detached duet danced at the premiere by the white ballerina Diana Adams and the African-American principal Arthur Mitchell – the man lifts the woman's leg up behind her and presses her head back to meet it in a gesture that is at once brutal and intimate. Moments later she is seen balancing in a classical arabesque while he lies on his back at her feet, clutching her standing leg and rotating her. Her raised leg sweeps arrogantly above his head like a helicopter's rotor blade."
Last performed by OBT in 1999, and translating roughly to "athletic contest", Agon is by turns playful, spirited and sexy – full of intricate patterns, both visually and musically.
Central to this anniversary celebration are the three choreographers who most shaped OBT over its first 25 years. Featuring duets from Trey McIntyre's 2013 Robust American Love, Christopher Stowell's 2011 Carmen and James Canfield's 1989 Romeo & Juliet, Love x 3 is a tribute to those whose creative vision and passion helped to establish OBT's stellar reputation on the American ballet scene. The performance of Canfield's Romeo & Juliet marks the first time his work will be danced by the company he founded since his departure in 2003.
A celebratory party with special guests will follow the opening night performance. Tickets to this event can be added to one's performance package for a fee by request. For more information, visit www.obt.org.
Photo: Carmen (danced by Alison Roper) flies into the arms of Escamillo (Brett Bauer) in Christopher Stowell's Carmen presented by Oregon Ballet Theatre in October 2011. Photo by Blaine Truitt Covert.