Oregon Ballet Theatre presents 'Swan Lake'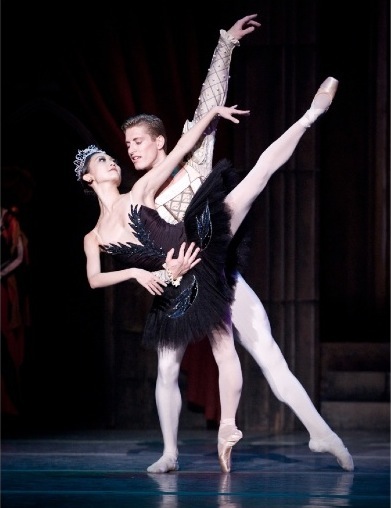 The long-awaited February 16 – 23 return of Oregon Ballet Theatre's celebrated Swan Lake will carry particular significance as the run will include the retirement performances of OBT Principal Dancer Yuka Iino.
Choreographed by former Artistic Director Christopher Stowell, OBT's Swan Lake garnered splendid reviews and sold-out houses at its premiere in 2006 and again in 2008. It brings to life the archetypal story of good versus evil, the power of love and the fate of innocence. With Tchaikovsky's magnificent melodies and its kaleidoscopic flock of moonlit dancers all in white, Swan Lake embodies the best of 19th century story ballets.
Stowell's Swan Lake is notable for filling every phrase of the Act I score with sparkling dancing, showcasing dancers at all levels of the company. His interpretation of Act IV carries heart-wrenching dramatic power.
The technical and dramatic challenges of the dual role of Odette, the White Swan, and Odile, the Black Swan, are among the most demanding in ballet. Principal Dancers Yuka Iino and Alison Roper will build upon their highly acclaimed interpretations from 2006 and 2008, while Principal Dancers Haiyan Wu and Xuan Cheng are preparing for the roles as well. Principal Dancers Chauncey Parsons, Yang Zou and Brett Bauer, and Soloist Brian Simcoe will portray Prince Siegfried.
Yuka Iino will conclude her nine-year dancing career with OBT at the final performance of Swan Lake on February 23. Iino joined OBT in 2003, and was named a principal when OBT instituted an artist ranking system in 2007. She will teach and may continue to perform as a guest artist.
A native of Japan, Iino joined OBT from Reiko Yamamoto Ballet Company where she was promoted to principal dancer in 1996. She is a graduate of the Reiko Yamamoto Ballet School and a recipient of both the 1998 Varna International Ballet Competition Gold Medal (Junior Division), and the 1995 Asian Pacific Ballet Competition Bronze Medal. Iino has had ballets created on her at OBT by Christopher Stowell, Kent Stowell, Yuri Possokhov and Nicolo Fonte; and she danced featured roles in works by Julia Adam, George Balanchine, Jerome Robbins, and William Forsythe. She has received particular acclaim for her dramatic interpretation and the high technical standard of her Odette/Odile in Swan Lake.
OBT Interim Artistic Director Anne Mueller said of Iino: "Yuka's arrival at OBT marked a new era for the company. She was one of several exemplary dancers brought to the company by Christopher Stowell in his first year as Artistic Director. From the first program she performed, she set the tone for what great dancing in this era would mean: adventurous, musical and virtuosic. I have had the immense pleasure of working with Yuka in a variety of capacities and gain respect and admiration for her with each new endeavor we've encountered together. Yuka always infuses her dancing with a generosity of spirit and vulnerability that makes each performance not only technically impressive, but artistically meaningful."
Christopher Stowell echoed his support of Iino: "Her focus and drive never diminish the sweet and supportive nature she brings to the studio. It has been a pleasure working with her this past decade."
Reflecting on her decision to retire and her future plans, Iino said, "I was 6 years old when I decided that I wanted to become a professional ballerina. I moved away from my family when I was 12 to live in a dormitory to focus on ballet 24/7. I couldn't have asked for more than dancing as a principal dancer with Oregon Ballet Theatre."
Iino will dance opening night, Saturday, February 16 at 7:30 p.m. Her farewell performance will be Saturday, February 23 at 7:30 p.m. Both performances will be held in Portland's Keller Auditorium.
Tickets start at $28. Visit www.obt.org or dial 503.2.BALLET for tickets. A "Pay Your Age" discount is offered for all patrons under 35 years old.
Photo: Oregon Ballet Theatre Principal Dancer Yuka Iino and former Principal Dancer Ronnie Underwood perform Christopher Stowell's Swan Lake in 2008. Photo by Ben Kerns.