Oregon Ballet Theatre to premiere works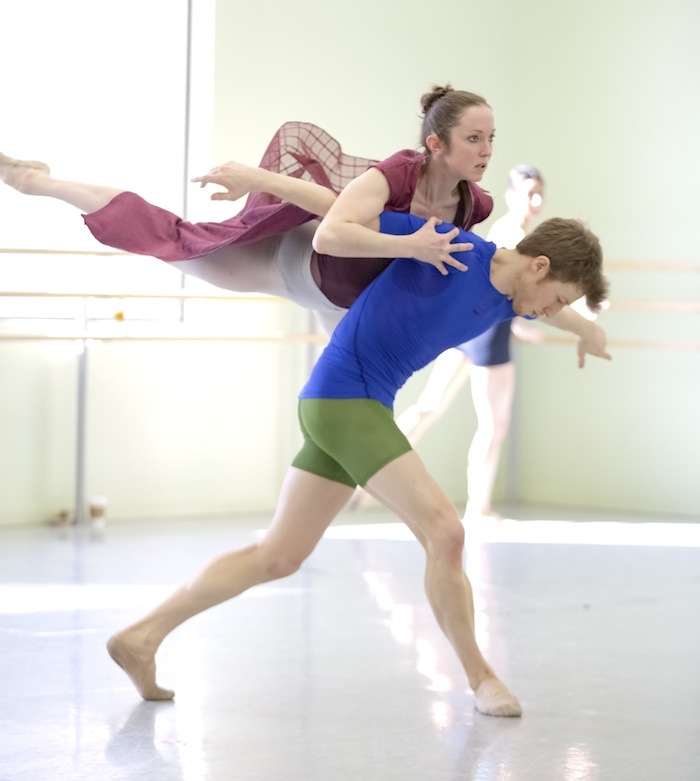 Oregon Ballet Theatre's upcoming American Music Festival presents two world premieres and one West Coast premiere in an ambitious program that spans a wide spectrum of the country's musical genres.
To be presented in eight performances between April 18th and the 27th, the three works are not only diverse musically; they represent the distinctly different styles of each of the accomplished dance makers, providing an artistically satisfying challenge to the company artists.
Swedish choreographer Pontus Lidberg's new work Stream will immerse viewers in a world of hypnotic liquidity, while contemporary ballet choreographer Trey McIntyre's Robust American Love will explore the territory of the American pioneer spirit. On another note entirely, BalletX co-founder Matthew Neenan will infuse virtuosic technique with humanism in his work At the border. Together these works will take the audience on quite a journey through the galaxy of contemporary ballet and modern music.
In this show, Portland-favorite Trey McIntyre returns with his first OBT commission since Just in 2006. In Robust American Love, McIntyre showcases the pioneer spirit in characteristic grit, determination and hope. For music, he appropriately chose the Seattle-based band Fleet Foxes, attracted to their sense of Americana. He said he thought their music was suggestive of wide-open spaces and canyons.
McIntyre's work also seeks to explore ideas of pioneering a brand new place, of toughness and optimism, and of being connected to the land. Melissa Schlachtmeyer's designs capture that sense of tradition forging into the expansive frontier. The effect allows the costumes to dance on their own, almost separately from the dancers.
"Trey McIntyre is a bright light, a brainy ballet choreographer whose best works fuse visceral physicality with a deep and true humanism," said Laura Bleiberg of the Los Angeles Times.
In Lidberg's Stream, the choreography is a gorgeous moving sculpture full of sinuous counter-balancing and interesting partnering. It will feature the commissioned music of Portland-born, Juilliard graduate Ryan Francis and costumes beautifully crafted by Reid Bartelme.
Claudia La Rocco of The New York Times wrote that Lidberg "sublimates the academic language of ballet, dissolving it into knotty partnering that manages, by and large, to avoid the churning clichés of much contemporary movement in the form." She called his work "refreshing" for its "virtues of restraint."
Lastly, Neenan's At the border will be a West Coast premiere and will serve as Portland's introduction to this choreographic luminary. It develops core ideas that blend classical technique with humanistic movement and is set to a score by Pulitzer Prize winner John Adams, who is known for his minimalist music. In a review of the work, The Las Vegas wrote, "[The dancers] absolutely sparkled… filling a bare stage with insouciant energy, arcing jumps and far-flung limbs. Vitality radiated from the red- and blue-clad dancers."
OBT's American Music Festival premieres Thursday, April 18 at 7:30 p.m. and runs for eight performances through Saturday, April 27. For complete show times or to book tickets, go to www.obt.org. Tickets start at $23. It will be presented at Newmark Theatre, located at 1111 SW Broadway in downtown Portland.
For those 35 and under there is the chance to "pay your age" for a seat at any performance of American Music Festival. "Pay Your Age" tickets can be purchased via phone or in-person only. This is limited to one ticket and does not include handling and service charges.
Photo: Oregon Ballet Theatre's Principal Dancer Alison Roper and Soloist Lucas Threefoot in rehearsal for Trey McIntyre's Robust American Love. Photo by Blaine Truitt Covert, courtesy of OBT.