PA film institute spotlights Bolshoi Ballet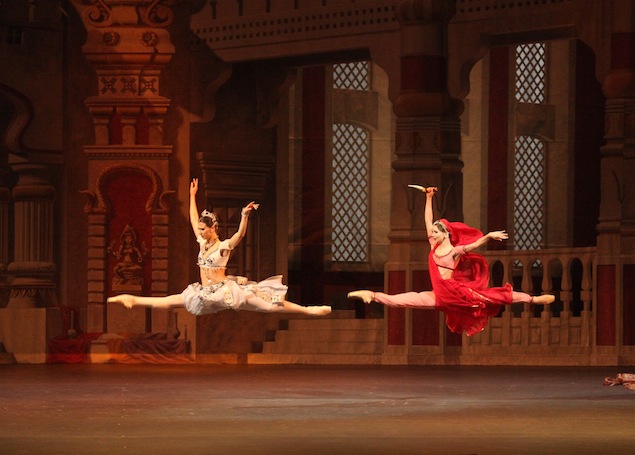 The Bryn Mawr Film Institute (BMFI) in Pennsylvania will spotlight Russia's Bolshoi Ballet in its upcoming fall film lineup. Beginning in November, it will present three films featuring the magnificent company in performance at its luxurious home theatre in Moscow. These showings will provide ballet enthusiasts a chance to see the Bolshoi in all its glory on the big screen – the next best thing to being there live!
Located at 824 W. Lancaster Avenue in Bryn Mawr, Pennsylvania, BMFI will present The Legend of Love choreographed by Yuri Grigorovich on November 23, The Pharaoh's Daughter by Pierre Lacotte on December 7, and La Bayadère by Yuri Grigorovich on December 21.
The Legend of Love is a grand tale of forbidden love, self-sacrifice, jealousy and suffering. This production is the work's big return to the Bolshoi stage after a 10-year absence. Featuring dance movements, sets and costumes inspired by the Middle East, this stunning ballet, which uses pure dance to tell the story, is further enriched by the talent of the Bolshoi troupe.
The plot of the lavish The Pharaoh's Daughter is loosely based on Théophile Gauthier's novel Le Roman de la Momie. French choreographer Pierre Lacotte was exclusively commissioned in 2000 by the Bolshoi Theatre to resurrect Marius Petipa's mighty Egyptian fresco, and he succeeded brilliantly in giving new life to this forgotten masterpiece. With its exotic setting, impressive parades, spectacular variations and large crowd scenes, this grand 19th-century Orientalist fantasy is one of the most remarkable productions in the Bolshoi's repertoire.
La Bayadère (the word refers to an Indian temple dancer) is a key work in the classical repertoire, and this is a magnificent production. The story of impossible love between Nikiya and Solor is set against the backdrop of a lush, mysterious India. Bolshoi Principals Svetlana Zakharova and Maria Alexandrova bring the characters of this romantic ballet to life.
For advanced tickets and more information, visit BMFI online at www.brynmawrfilm.org.
Photo: Bolshoi Ballet in La Bayadère. Photo by Damir Yusupov.