Pacific Northwest Ballet presents mixed-bill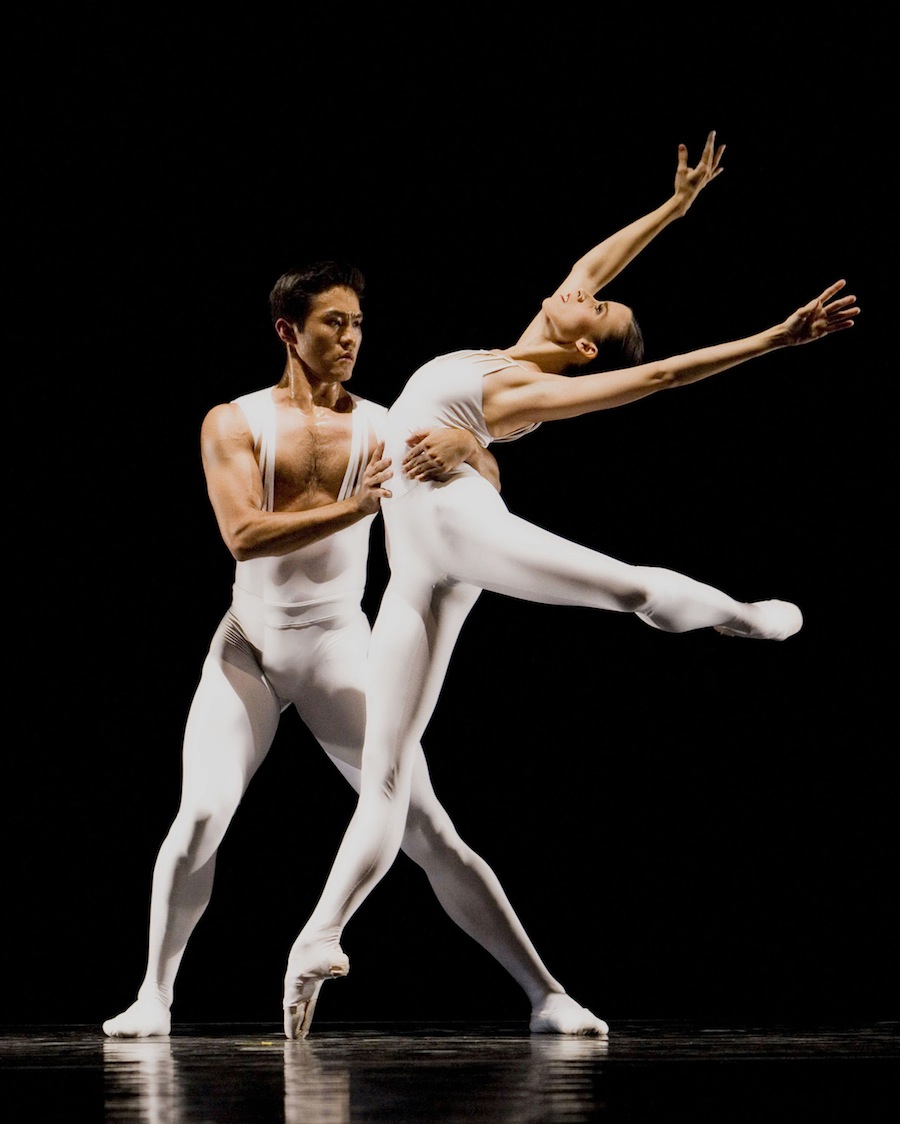 MODERN MASTERPIECES, Pacific Northwest Ballet's March mixed-bill, is set to deliver works from repertory giants as well as a world premiere. With works by Ulysses Dove, Twyla Tharp, George Balanchine and PNB's own Paul Gibson, MODERN MASTERPIECES promises to be a spectacular evening of masterful, beautiful ballet.
Artistic Director Peter Boal's desire to curate new choreographic collections paved the way for works by Ulysses Dove and Twyla Tharp to enter PNB's repertory. In Dancing on the Front Porch of Heaven, Dove's ode to love and loss, the pairing and parting of three couples is illuminated in still pools of white light. Set to music by Arvo Pärt, the 20-minute work was initially choreographed for the Royal Swedish Ballet in 1993 and received its U.S. premiere in 1996 at the For the Love of Dove benefit in New York.
According to New York Times dance critic Jennifer Dunning, in Dancing on the Front Porch of Heaven Dove "suggests a broken flow of relationships by placing his solos and duets in a chain of white spotlights." Dove himself explained, "To me, Arvo Pärt's music can send souls to heaven. I want to tell an experience in movement, a story without words, and create a poetic monument over people I loved." Pacific Northwest Ballet premiered the work in November 2006.
Next, aerobic-clad "stompers" and ankle-socked ballerinas convene under arena-rock haze for Tharp's In the Upper Room, an exuberant full-court assault from the 80s. Divided into nine segments, the work features thirteen dancers who move through a variety of groupings and abstract styles (some on pointe, some in sneakers) that culminates in a dazzling finale for the entire ensemble. Set to original music by Philip Glass, the now 40-minute-work previewed as an untitled work-in-progress on July 7, 1986. Pacific Northwest Ballet premiered the work in November 2007.
Concerto Barocco, George Balanchine's testament to the mathematical beauty of Bach, achieves flawless form via Francia Russell, one of the first ballet masters chosen by Balanchine to stage his works. Of this landmark piece, Balanchine himself once stated: "The only preparation possible is a knowledge of its music [Johann Sebastian Bach's Double Violin Concerto in D minor], for Concerto Barocco has no 'subject matter' beyond the score to which it is danced and the particular dancers who execute it."
Masterfully reflecting Bach's polyphonic structure and development of musical voices—the brilliant interplay of the two solo violins with the chamber orchestra, and with each other—Balanchine's choreography is as complex and pure as the music itself. But, as many viewers have noted, the ballet is no literal reproduction of Bach's great score. Rather, it is movement related so ingeniously to the music's inner workings that it seems an extra line of counterpoint or a partner in a subtle dialogue.
Lastly, PNB's own Paul Gibson (The Piano Dance) unveils Mozart Pieces, a new work sensitively crafted to the dancers he knows best. Growing from a work originally choreographed for Pacific Northwest Ballet School's annual School Performance in 2011, the work has been expanded for the company. It is set to a selection of movements from Mozart symphonies and includes a cast of nine, including seven men who are featured in a series of solos, duets and ensembles. Mozart Pieces is Paul Gibson's fifth work for Pacific Northwest Ballet.
MODERN MASTERPIECES runs for seven performances only, from March 15 through 24 at Seattle Center's Marion Oliver McCaw Hall. Tickets start at $28 and may be purchased by calling 206.441.2424 or online at pnb.org.
Photo: Pacific Northwest Ballet principal dancer Batkhurel Bold and soloist Lindsi Dec in Ulysses Dove's Dancing on the Front Porch of Heaven, which will be performed during Pacific Northwest Ballet's MODERN MASTERPIECES, March 15 – 24, 2013. Photo by Angela Sterling.