Pacific Northwest Ballet reprises Don Quixote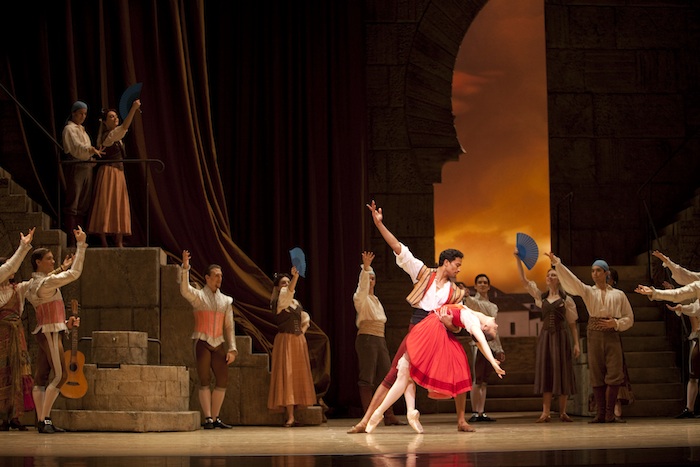 Pacific Northwest Ballet presents the return of Alexei Ratmansky's spectacular, rousing Don Quixote starting this weekend. One of the most opulent productions ever presented in PNB's history, Don Q runs for nine performances only, from January 30 through February 8 at Seattle Center's Marion Oliver McCaw Hall.
Ratmansky's genius for revitalizing classic ballets is the talk of the dance world. America had its first look at his staging of Don Quixote when PNB premiered it to great acclaim in 2012. Vast in every sense —from Jérôme Kaplan's colossal sun-bleached sets and vibrant costumes, to the expansive sweep of the choreography — Don Q is informed by Ratmansky's technical fluency punctuated by carefree humor, brimming with wit and romance.
The story follows Spain's legendary hero Don Quixote and his faithful squire, Sancho Panza, to the famed city of Barcelona on a quest for his dream lover, Dulcinea. Instead, he becomes entangled in the affairs of the high-spirited Kitri whose father would rather she marry a rich fool than the penniless but dashing Basilio. The young couple takes flight and their adventures, reflected by the Don's visions, fill the stage with teaming street life, the cadence of castanets and tambourines, flashing fans and whirling matadors. Bravura dancing, captivating characters and stunning stagecraft combine with Ludwig Minkus' rousing score to deliver a tremendous theater experience for audiences of all ages.
Award-winning actor Tom Skerritt – who, in addition to roles in such film classics as Top Gun, M*A*S*H, Alien and Steel Magnolias, played a former ballet dancer in the hit film The Turning Point – returns to PNB in the lead role of Don Quixote for select performances. His devoted squire, Sancho Panza, will once again be played by Allen Galli, familiar to Seattle audiences from over 30 years of appearances with every major local theatre company. (Visit the Don Q casting page at PNB.org for full casting announcements.)
Don Quixote is one of the most sumptuous productions in PNB's history. The ballet originally cost Dutch National Ballet $3 million to build! For one, Don Q is so expansive that it took eight shipping containers to transport the elaborate sets and costumes from Amsterdam to Seattle. It uses more lumber and other building materials than PNB's Coppélia, Cinderella and The Sleeping Beauty combined. It requires 2,200 square feet of dancing space on stage. Plus, the production utilizes 280 costumes and props, including 47 wigs and hairpieces, requiring the work of eight hair and makeup artists at each performance.
Tickets start at $30 and may be purchased by calling 206-441-2424. For more information, visit PNB.org.
Photo: Pacific Northwest Ballet Principal Dancers Carla Körbes and Karel Cruz with company dancers in Alexei Ratmansky's Don Quixote. Photo by Angela Sterling.