Pacific Northwest Ballet to begin new season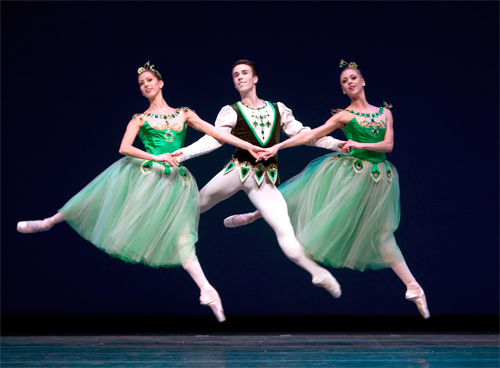 Pacific Northwest Ballet raises the velvet curtain on its 2014-15 season with George Balanchine's Jewels on September 26-October 5 at Seattle Center's Marion Oliver McCaw Hall in Seattle, Washington.
Costumed in emerald green, ruby red and luminous white, the trio of gems in Jewels pays tribute to golden ages of music and dance. Evoking the birthplace of Romantic ballet, Emeralds' graceful clouds of tulle whisper French courtesy, fashion and fragrance. A sassy, jazzy collaboration with composer Igor Stravinsky, Rubies mirrors the carefree spontaneity of America, Balanchine's beloved adopted country. The splendor of Diamonds recalls the great choreographer's heritage, so that "if the entre Imperial Russian inheritance of ballet were lost, Diamonds would still tell us of its essence," as proclaimed by Mary Clarke and Clement Crisp.
The New York Times described Jewels as: "simple and complex, thought-provoking and crowd-pleasing, deeply traditional and utterly modern, [an] affirmation of Balanchine's genius."
Ballet aficionados also have many opportunities to get up close and personal with various behind-the-scenes events being offered. A Coaching Series, a First Look Gala and a Lecture Series are just a few examples of the company inviting viewers into the studio or into the theater for exclusive previews.
For instance, PNB Artistic Director Peter Boal has invited ballet fans to come watch company dancers receive personal coaching on the iconic roles of Balanchine. The original interpreters of Balanchine's Jewels will prepare dancers for this season's revival of the 1967 masterpiece. The Coaching Series will present sessions with Jacques d'Amboise teaching Diamonds on Wednesday, August 20; Violette Verdy and Mimi Paul teaching Emeralds on Thursday, September 11; and Edward Villella teaching Rubies on Monday, September 22.
For tickets and more information on Jewels and special events, head to PNB.org, call 206.441.2424 or visit the PNB Box Office, located at 301 Mercer Street at Seattle Center.
The next show in PNB's 2014-15 season is Director's Choice on November 7–16, presenting David Dawson's A Million Kisses to my Skin, Nacho Duato's Rassemblement, Annabelle Lopez Ochoa's Before After and a world premiere by Justin Peck, the new resident choreographer at New York City Ballet.
Photo: Maria Chapman, Benjamin Griffiths and Lesley Rausch in Emeralds. Photo © Angela Sterling.