Palm Dessert California USA choreography festival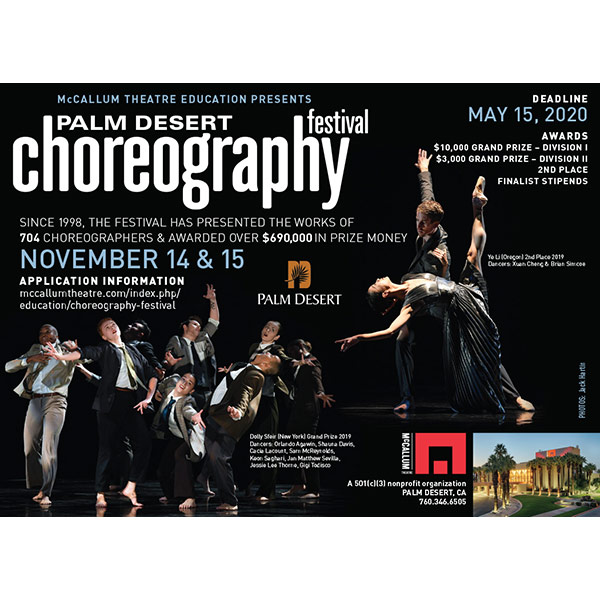 While things are a bit uncertain at the moment, the Palm Dessert Festival team is moving ahead and looking forward to shining a light on, your choreography and dancers in November. They would love to consider your work through their choreography competition and there are some amazing cash prizes! The deadline for submissions is May 15th.
Dedicated to the advancement of dance as an art form, specifically through the support and promotion of quality choreography, this festival includes a choreography competition, outreach projects, workshops, residencies and a Lifetime Achievement Award presentation.
Division I – November 14, 2020, 7pm
Choreographers working with professional dancers of seasoned artistry and fully mature technique ages 18 and up.
$10,000 Grand Prize
$3,000 Second Place

Cash awards for all Division I finalists according to the following scale:
Solo – $500
Duet – $750
Small Group – $1,000
Ensemble – $1,250
Division II – November 15, 2020, 4pm
Choreographers working with pre-professional dancers from aspiring and emerging companies, colleges and studios.
$3,000 Grand Prize
$1,000 Second Place
$300 Junior Choreographer Award (18 and under)
Cash awards for all Division II finalists according to the following scale:
Solo – $250
Duet – $375
Small Group – $500
Ensemble – $625
Visit https://www.mccallumtheatre.com/index.php/education/choreography-festival for more information and a direct link to submit your work.