Parsons Dance to present new works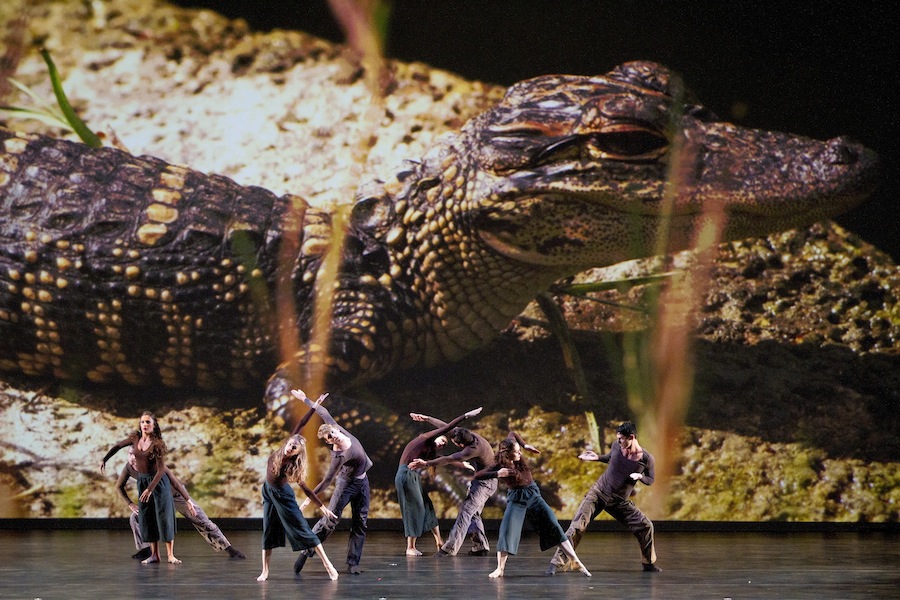 Contemporary dance company Parsons Dance will return to The Joyce Theater on Jan. 15-27 with a program that includes two new works: Dawn to Dusk by David Parsons and Black Flowers by former Parsons Dancer Katarzyna Skarpetowska.
The company will also present a family matinee program that features kid-friendly Parsons Dance classics on Saturday, Jan. 26 at 2 p.m. Both programs will include David Parsons' stroboscopic masterwork Caught.
Dawn to Dusk celebrates the diverse people and landscapes of southern Florida. Set to the music of Grammy-Award winner Andrew Bird and Miami's legendary Tiempo Libre, Parsons Dance presents stunning choreography integrated with streaming high-definition footage of the dancers who also appear onstage.
The backdrop fills the stage with powerful photographs by Clyde Butcher and footage captured by Blue Land Media of the dancers in four of Florida's most precious wildlife parks. Audiences will experience these locations, with their delicate ecology and unique challenges that have been preserved and protected for our use. From primitive to urban cultures and environments, David Parsons' newest work takes the audience on a journey from Dawn to Dusk.
To create Face of America Series: Spirit of South Florida, David Parsons and members of Parsons Dance traveled to Florida in November 2011 with a ten-person film crew and members of Wolf Trap's production team. They spent ten days immersed in the natural environments of Big Cypress, Biscayne, Dry Tortugas and Everglades National Parks, overwhelmed by the diversity of the landscapes and amazed by the indigenous wildlife. The dancers and filmmakers merged these environments to capture the beauty of these parks on film, in site-specific work. Dawn to Dusk was commissioned as part of Wolf Trap's Face of America Series: Spirit of South Florida.
Katarzyna Skarpetowska, last season's guest choreographer and former Parsons' dancer, will explore her Polish roots in a World Premiere entitled Black Flowers featuring the music of Poland's greatest composer, Frédéric Chopin. Six dancers will guide the audience through a mystic lamentation and a mourning ritual in which women always appear in a universally sacred trio. Her 2012 commission proved a major hit with Joyce audiences, and was described in The New York Times as "A dance with shadows in it, mysteries . . . original . . . refreshing . . . made you think."
The program also includes David Parsons' 2005 Mozart-inspired work, Wolfgang; ensemble classic, In The End, with music by Dave Matthews Band, and David Parsons' stroboscopic masterwork, Caught.
Called "one of the great movers of modern dance" (The New York Times) and "one of modern dance's great living dance-makers" (New York Magazine), David Parson and his company will grace the Joyce stage from Jan. 15-27.
The Joyce Theater, located at 175 Eighth Avenue in New York City, is currently selling tickets ranging in price from $10 to $59. For more information, call 212-242-0800 or visit joyce.org.
Photo: Parsons Dance in Dawn to Dusk. Photo by Scott Suchman.