Pas de Deux Intensive with Fiona Fairrie and auditions!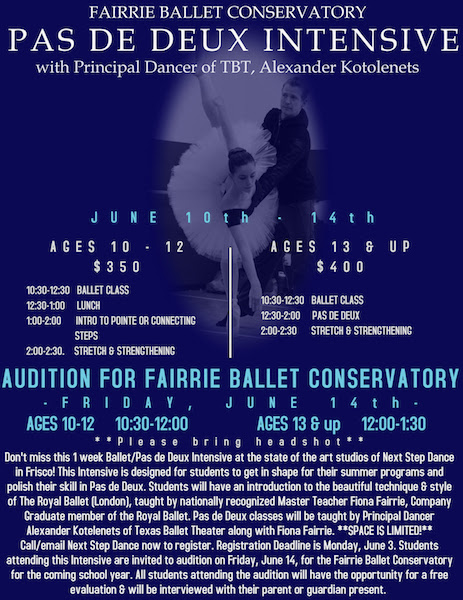 Don't miss this 1 week Ballet/Pas de Deux Intensive at the beautiful studios of Next Step Dance, Frisco, Texas June 10th-14th. Students attending this Intensive are invited to audition on Friday, June 14, for the Fairrie Ballet Conservatory for the coming year.
The intensive is designed for students to get in shape for their summer programs and polish their skills in Pas de Deux. Students will have an introduction to the beautiful technique & style of The Royal Ballet (London), taught by nationally recognized Master Teacher Fiona Fairrie, Company Graduate member of the Royal Ballet. Pas de Deux classes will be taught by Principal Dancer Alexander Kotelenets of Texas Ballet Theater along with Fiona Fairrie.
Classes include: Technique, Pointe, Pas de Deux, Body Conditioning and more!
All students attending the audition will have the opportunity of a free evaluation & all will be interviewed with their parent or guardian present.
This audition will be extremely selective & successful students will be part of a highly elite & Professional Program.
To find out more visit https://nextstepperformingarts.com/
Photo Courtesy Of NSPA