Pentacle pioneers new way to stage LA dance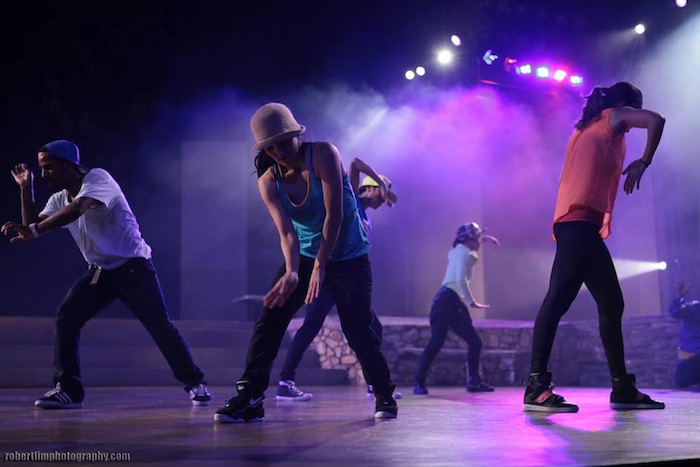 To help meet the challenges of presenting and producing dance in Los Angeles, Pentacle steps up to the plate with Pentacle Presents Home Grown @ Bootleg, a new pilot program in two parts: February 19-22 and April 23-26. The innovative new program is open to all dance companies and independent choreographers in Los Angeles County, and will offer participants more opportunities to show their work, to build and expand their audiences, and to create audience identity with the Bootleg Theater, a trusted venue for strong L.A. area-based dance and performance work. In addition to the evening performances, each weekend will include a fourth afternoon of celebratory engagement with the artists and participatory exploration of the works presented in performance the three previous nights.
Companies selected for the debut performances of Home Grown @ Bootleg in February are Antics, Amy "Catfox' Campion's L.A.-based hip-hop company, and MULTIPLEX DANCE, which integrates athletic and acrobatic movement vocabulary with digital media and electronic music. The April dates will see Invertigo Dance Theatre and Danza Floricanto/USA. The companies were selected by a panel that included: Alicia Adams, artistic director of Bootleg Theater; Charmaine Jefferson of Kelan Resources; Sara Wookey; and Evy Warshawski, former executive director of Santa Clarita Performing Arts Center. Home Grown @ Bootleg will be led by Pentacle Director Felicia Rosenfeld and Program Coordinator Raélle Dorfan.
Why a new program for dance? As noted by dance writer Lewis Segal in his end-of-the-year reflection, "Angeleno choreographers Melissa Barak, Josie Walsh (both at the Broad) and Jacob Jonas (at Highways) launched impressive, short-term attempts to break into wider renown. But what's next for them? Another night or two a year from now? And will they have to mortgage all their worldly possessions and maybe even their first born to afford even that? As they know too well, there's no dedicated dance space in this city, no sure passage for choreographers and companies to grow from studio to stage, no accessible/affordable venue where the members of the dance community can measure their work against the achievements of others and where audiences can find and follow the artists they've heard or read about." It's for these exact reasons that Pentacle seeks to begin Home Grown @ Bootleg.
Through this pilot initiative, Pentacle, in partnership with Bootleg Theater, is determined to provide a home for L.A.'s vivid dance scene, opening doors by creating new and affordable means for local dance artists to showcase their work in an on-going way. In addition, Pentacle hopes to create audience identification with the Bootleg Theater as a venue that the audience can trust to present high quality, interesting and engaging Los Angeles-based dance.
The debut program on February 19-21 will present Antics performing Sneaker Suites, a work-in-progress collaboration between the company and story architect Mark Gonzales. Through spoken word poetry and street dance, Sneaker Suites delves into the diverse and personal relationships that we have with one of the most highly purchased fashion items in the world: sneakers! Also for the February program, MULTIPLEX DANCE will perform From Darkness to Light, a two-part work consisting of subSTRATA (2014) and the premiere of Between Earth and Heaven. Both works incorporate video projections designed by Chad Michael Hall and music by composer David Karagianis.
For more information on the nonprofit Pentacle or Home Grown @ Bootleg, visit www.pentacle.org.
Photo: Antics in performance. Photo by Robert Lim Photography.