People Movers reflect on 'Celine' creation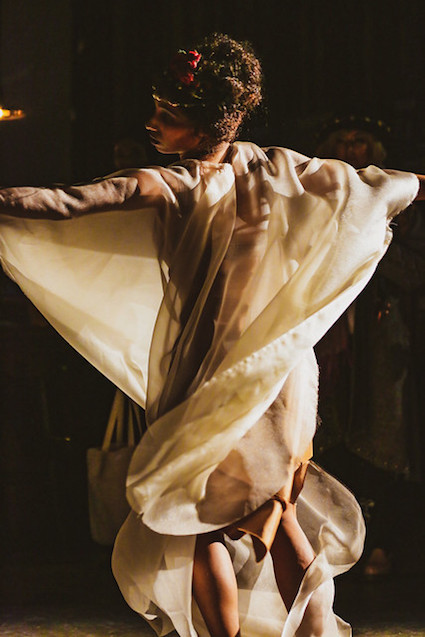 In 2018, The People Movers' choreographer and artistic director Kate Ladenheim and performer–designer Cecilia Lynn-Jacobs devised a collaborative project titled OH, CELINE and its heroine, Celine (née De La Croix). This fictional Brooklyn-based avant-garde dancer was conceived as a hilarious yet sincere caricature of a downtown artist. Through a sequence of events – sometimes harrowing, sometimes funny – the clueless New Age-y diva evolved into a provocative, Borat-like figure through whom her creators set to unmask the power structures in the contemporary art scene and our society at large.
Over the last few months, Celine's experiences unveiled through a long series of disarmingly pretentious social media posts, a mystifying art film and surprising live appearances — all of which inspired unexpected reactions from the audiences. Now, Ladenheim and Lynn-Jacobs present a look at their heroine's journey in MAGNUM OPUS: A Retrospective, a multidisciplinary evening of solo performance combining theater, dance and scenic installation, presented by Brooklyn Studios for Dance (210 Lafayette Ave, Brooklyn, NY 11238). The show will be on view Thursday, Friday and Saturday, April 11-13, at 8 p.m. Tickets are $20 and can be purchased at www.eventbrite.com.
In her artistic career – carefully documented in the artist's cryptic Tumblr blog – Celine has been kicked off the stage at the DanceNow: Joe's Pub Festival during the performance of MAGNUM OPUS: The Prelude. Later, she was "discovered" by an artisanal liquor brand Jü whose marketing team promised Celine an outlet for her creativity in a commercial only to try to suppress her sincerity and later ridicule her for it. Devastated by the experience, she managed to salvage the footage and screen it – under the title MAGNUM OPUS: Resurgere ex Cineribus – as an art film at the surprisingly supportive Kickstarter HQ in Brooklyn, where the show was attended by some of her Instagram followers, convinced she was a real person. Later still, Celine found refuge at Keshet, an artist-in-residency program in New Mexico, where she reunited with Mother Nature, found her Inner Goddess and produced her latest oeuvre, MAGNUM OPUS: A Desert Reflowering – a third attempt to make her first and greatest masterpiece.
"We were interested in who is allowed to be a diva and celebrated for it – and how the society responds to this kind of attitude when exhibited by someone who does not meet the narrowly defined standards of 'coolness,'" Ladenheim said.
Lynn-Jacobs, who portrays the eccentric artiste in the project, adds, "Celine became a satire of the downtown dance scene as we borrowed the most egregiously annoying things we observed in our own actions as well as that of others. We especially focused on using behaviors that our white male bosses have used and gotten away with."
Celine's story follows the structure of a Bildungsroman, centering the narrative on a sincere but flawed character whose shortcomings might get in the way of the audience's understanding of her latent talent and unique perspective. What Ladenheim and Lynn-Jacobs are interested in for Celine's MAGNUM OPUS is: what has Celine learned from all this, and what does her experience say about the position of women in the arts as well as in society?
To learn more, visit thepeoplemovers.co/oh-celine.
Photo by Lady Deryn.