Performance Lab Series at Steps this Saturday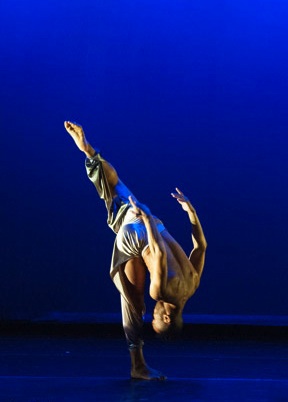 Steps Beyond and REVERBdance will co-present the Performance Lab Series this Saturday, September 27 at 8 p.m. at Steps on Broadway, located at 2121 Broadway, NYC. Works by nine choreographers will be featured, introducing various styles from across the movement spectrum.
Young dancemakers include: Aaron Atkins of Ballet Inc., Jordan Daniels of JordanDanielsDance, Amber DeGaray of Westend Dance Company, Aurelian Peillex and Julia Ehrstrand, Nikki Theroux, Vanessa Van Wormer and special guests Verard J. Gilmore of Alvin Ailey American Dance Theater and Francesca Harper of Francesca Harper Project. Plus, Bradley Shelver, the artistic director of Steps Repertory Ensemble, will present a work.
This opportunity provides these promising artists a place to creatively experiment with their choreography and to receive confidential feedback from the audience during the process.
Aaron Atkins will present his duet Jamais Ton ("Ever Thine") danced by Max Simones and Dona Wiley while Jordan Daniels will present the solo see me danced by Anthony Shevlin Gonzales.
Amber DeGaray will show her trio Marlboro Lights, a retrospective piece concerning vulnerability, love, and loss, and choreographers Aurelian Peillex and Julia Ehrstrand will dance their joint work Pendulum: A body so suspended from a fixed point as to move to and fro by the action of gravity and acquired momentum.
Marymount Manhattan College graduate Nikki Theroux will be represented by the seven-dancer work Emit Time, which is set to Charles Mingus's "Ysabel's Table Dance." Vanessa Van Wormer's women's quintet In Order to Alert will be presented as well, as set to a shadowy, mechanical underscore by Swod and Scuba.
Alvin Ailey veteran dancer Vernard J. Gilmore will present the men's duet, my brother, my friend, excerpted from his longer work Vdome. Then Francesca Harper will present her work before Bradley Shelver introduces the Steps Repertory Ensemble in an excerpt from Le Monde Est Fini, pas de panique, with music by Steve Reich.
To reserve tickets or for further information, call 212.874.2410 x 127 or visit www.stepsnyc.com/steps-beyond.
Choreographers interested in presenting at the next Performance Lab Series, set for Sunday, February 22, 2015 at 8 p.m., can apply online. The deadline is Friday, January 16, 2015.
Photo by Nan Melville.