Performance to benefit cancer research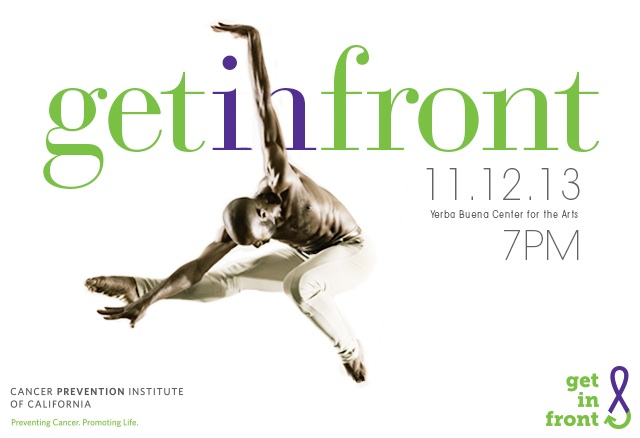 The California Bay Area's most celebrated dance companies are joining together in a one-night-only performance to benefit the Cancer Prevention Institute of California (CPIC), the nation's premier organization dedicated to preventing cancer. The event, entitled Get in Front, will be held Tuesday, November 12 at 7 p.m. at the Lam Research Theater at Yerba Buena Center for the Arts (YBCA) in San Francisco.
"The Bay Area is home to some of the finest dance companies in the world. Our idea was to bring together these many talented performers in a rare and special evening dedicated to CPIC's fight to 'Get in Front' of cancer," said James Sofranko, soloist with San Francisco Ballet, and one of the event organizers.
The Get in Front event, now in its second year, was conceived and is organized by Sofranko, Garen Scribner of Nederlands Dans Theater and Margaret Karl, formerly with SF Ballet. The evening will include performances by dancers from San Francisco Ballet, ODC/Dance, Smuin Ballet, Ballet San Jose, Robert Moses' Kin, AXIS Dance Company, Zhukov Dance Theater, Renegade Rockers and Margaret Jenkins Dance Company. The evening will showcase ballet and contemporary works from some of the world's most renowned choreographers.
"CPIC is thrilled to partner with these passionate and gifted performers again this year," said Sally L. Glaser, Ph.D., Chief Executive Officer of CPIC. "The performance sold out last year and was an extremely successful event not only for Bay Area dance lovers but also for our organization's cancer prevention mission. We are appreciative of the efforts of the organizers, the commitment of the dancers and the support of the donors."
The event will include a pre-performance cocktail reception for Get in Front sponsors and a celebratory after-party for all ticket holders. Both reception and after-party will be held in the YBCA Forum.
Visit www.GetInFront.org for more information and to purchase tickets. Prices range from $50 to $250.