Peridance launches 2019 Audition Tour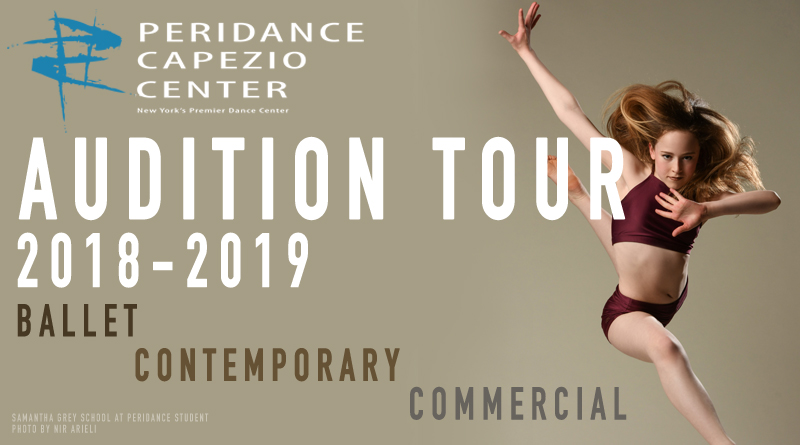 Peridance Capezio Center has been a leading institution in New York's dance community for more than 35 years, located in the heart of Manhattan at 126 E. 13th Street in the colorful East Village. Peridance offers a vibrant spectrum of dance classes, covering various techniques and styles for students and enthusiasts of all levels. The center, which is also home to the acclaimed Peridance Contemporary Dance Company, The Peridance Youth Ensemble and the Salvatore Capezio Theater, supports dance education and welcomes performances every day.
Now Peridance officials are touring the country to audition dancers interested in applying for its educational programs, specifically the Certificate Program and Summer Intensives.
– THE CERTIFICATE PROGRAM: 2-year program designed for pre-professional students who want to invest in an intensive collegiate-level training program. This program offers two tracks: Ballet/Contemporary and Commercial Dance. Starts September 2019. Ages 17-25.
– TEEN SUMMER INTENSIVE: 3-week intensive, June 24-July 14, 2019 for dancers looking to develop their dance skills in the heart of NYC's dance community. Ages 13-17. Includes a performance.
– BLUEPRINT SUMMER INTENSIVE: 2-week intensive, August 5-17, 2019 for pre-professional students looking for an inspiration blast to their training. Ages 17-25. Includes a performance.
Dancers who want to learn more about Peridance's other programs (including the Dance Studies Program, the Intensive Semester and Plunge) are encouraged to attend Peridance's audition workshops as well.
The tour launched January 18-20 in St. Louis, MO and since then has hosted auditions in New York, Houston and San Francisco as well. See upcoming tour cities below. For more information on these audition workshops, call 212-505-0886, email auditions@peridance.com or visit auditions.peridance.com. Note that scholarships and housing are available for the summer intensives and Certificate Program!
Upcoming 2019 Tour Dates + Cities
February 7: Tampa, FL
February 9: Berkeley Heights, NJ
February 9: Philadelphia, PA
February 10: Chicago, IL
February 16: Los Angeles, CA
February 16: Boston, MA
February 23: Kalamazoo, MI
February 24: Baltimore, MD
March 10: New York, NY
April 2: Colorado Springs, CO
May 18: New York, NY
April 28: Sao Paulo, Brazil