PGK Dance Project returns to the theater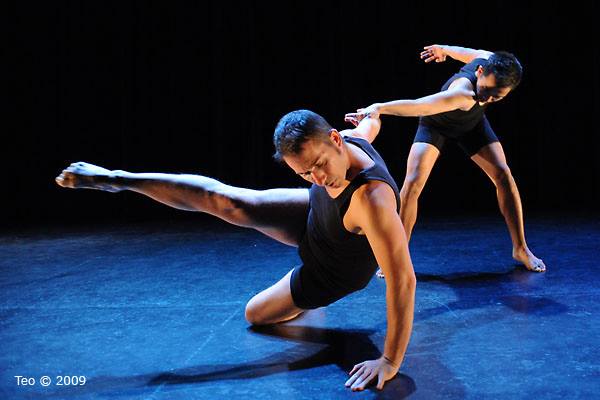 The PGK Dance Project, San Diego's widely-travelled, top-tier contemporary dance company, will perform during the week of October 8-12 at Downtown San Diego's Lyceum Space Theatre.
Over the past 20 years, the PGK Dance Project has danced on stages around the world – including in Europe, Central and South America, Central Asia and Australia –and has become well-known locally for its critically-acclaimed San Diego Dances, performed twice yearly since 2009 in locations not normally associated with professional dance, such as a hair salon, a wine bar and a former gas station.
Now, for the first time in five years, the company returns to the theater. While the reason for the initial move away from theaters is still relevant – the idea that the shows weren't as accessible and affordable to the company's desired public – these new in-theater performances fit the company better where it's currently at. Peter G. Kalivas, the founding artistic/executive director of the project, said PGK's mission to make great dance easily available to the community still remains at the heart of PGK's new fall dance series at San Diego's Lyceum Theatre, where Kalivas himself had performed as a dancer both with the San Diego Ballet and with Malashock Dance.
Now the company seeks to draw the newer generations into the theater for the first time. Kalivas said, "There are many people, particularly the younger generation, who are no longer raised attending the theater. Others are simply no longer able to afford it."
This issue developed into the creative catalyst for a return to a theater space as part of PGK Dance Project's 21st season, which will also include San Diego Dances on March 13 and 14, 2015, at Bread and Salt Art Center, a century-old, 43,000-square-foot former bread factory in Logan Heights.
The PGK Dance Project will perform a full-length dance concert in the Lyceum Space featuring choreographic works by Kalivas in collaboration with spoken word artist Nate Howard of Movement BE and Donna Scro, Rosalia Lerner, Khamla Somphanh, Geoffrey Gonzalez, Michael Nickerson-Rossi, Heather Dale Wentworth and Kim T. Davis. Shows will be offered Saturday evening, October 11, and Sunday afternoon, October 12. Additionally, PGK will host a Master Class Marathon for dancers and observers on Wednesday evening, October 8, featuring three of the choreographers and including a moderated Q&A.
For more information or to book tickets, visit www.lyceumevents.org or call the Box Office at 619.544.1000.
Photo: Peter G. Kalivas (foreground) in Stifling. Photo by TEO, courtesy of PGK Dance Project.