PNB Principal Kaori Nakamura to retire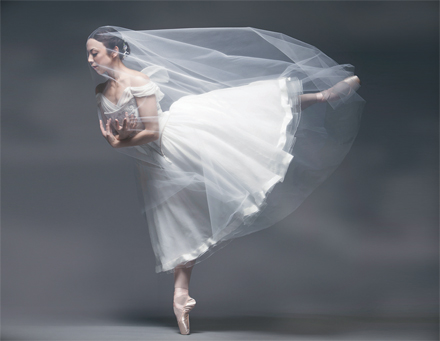 Pacific Northwest Ballet Artistic Director Peter Boal has announced that after a 17-year career with the company, Principal Dancer Kaori Nakamura will retire from performing at the end of PNB's 2013-14 season. Nakamura joined PNB as a soloist in 1997 and was promoted to principal in 1998. Following her retirement, Nakamura will join the faculty of PNB School.
In his announcement, Boal said, "I remember many of us from the New York City Ballet peeking into the studios of the School of American Ballet many years ago to see the young Kaori Nakamura, the youngest winner of the Prix de Lausanne, who had selected SAB for further study. She was so very tiny and perfect; a rare gem, with impeccable technique and a fierce work ethic."
"Now, 25 years later, I am so honored to have worked with Kaori as she continues to ascend to new heights of artistry and excellence," he continued. "She remains the consummate professional. Though we will miss her exquisite performances, I am thrilled to know that she will join our school faculty and bring her unique wisdom and experience to our students."
Audiences will have two more opportunities to watch Nakamura perform during the 2013-14 season. She will perform the lead role in Giselle from May 30–June 8 and then dance in PNB's annual Season Encore Performance at 6:30 p.m. on Sunday, June 8, where she will reprise some of her signature performances.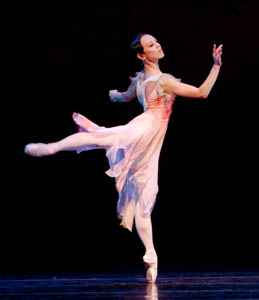 "To try to sum up the extraordinary talents of Kaori Nakamura is like asking to capture all the beautiful butterflies in the world with one swoop of a net… impossible," said PNB Principal Dancer Jonathan Porretta, who has partnered Nakamura in several ballets.
"Kaori embodies both artist and athlete. She is the epitome of grace and lightness, strength and fierceness," Porretta continued. "Getting to perform with her on opening night of Coppélia (in June 2010) was a dream; she is the most humble and gracious partner. She has taught me so much about having a genuine relationship on stage with your partner. I have had some of the most amazing and fun times dancing with her. She has a twinkle in her eyes that is both full of mischief and love all at the same time. She is truly a dream come true. In a word, I would call her my idol."
Nakamura is originally from Gumma, Japan. She trained at the Reiko Yamamoto Ballet Company and the School of American Ballet. In 1986, she won first prize at the 14th Prix de Lausanne competition in Lausanne, Switzerland. In 1988, she won a bronze medal at the International Ballet Competition in Varna, Bulgaria. Nakamura joined Royal Winnipeg Ballet in 1990, where she was made a principal dancer. She joined Pacific Northwest Ballet as a soloist in 1997 and was promoted to principal in 1998.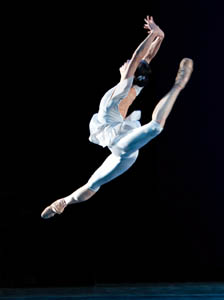 "Kaori was my partner in Winnipeg (1992-1995) and a good friend," said celebrated choreographer Alexei Ratmansky, who most recently directed her acclaimed performance as Kitri in Don Quixote in February 2012. "I've always admired her dancing – effortless, light, sharp and feminine. Technically she could do anything, but artistically she was able to develop fully only in Seattle and I am glad she dedicated her talents to PNB."
Nakamura performed the role of the Butterfly in the BBC's 1999 film version of PNB's production of George Balanchine's A Midsummer Night's Dream, filmed at Sadler's Wells Theatre in London. She has performed as a company member of Whim W'Him, a guest artist at the Hong Kong Arts Festival and the Melbourne Ballet Festival and with Dancers for Life in Vancouver, British Columbia.
For PNB, she has originated leading roles in Stephen Baynes' El Tango, Val Caniparoli's The Seasons, Paul Gibson's The Piano Dance and Mozart Pieces, Kent Stowell's Silver Lining, Kevin O'Day's [soundaroun(d)dance], Twyla Tharp's Afternoon Ball and Olivier Wevers' Shindig.
Nakamura will conclude her remarkable career at PNB with selections ranging from the Roméo et Juliette balcony pas de deux to The Sleeping Beauty's Rose Adagio at the Season Encore Performance. For more information or to order tickets, visit www.pnb.org. Both Giselle and the Season Encore Performance will take place at Marion Oliver McCaw Hall, located at 321 Mercer Street in Seattle.
In addition to Nakamura's retirement, the Season Encore Performance will also be PNB's chance to bid a fond farewell to departing corps de ballet members Andrew Bartee and Liora Neuville. Bartee joins Ballet BC this summer, and Liora has chosen to pursue a nursing degree. Executive Director D. David Brown is also retiring.
Photos: Kaori Nakamura as Giselle (top), in Robert Joffrey's Remembrances (left) and in Twyla Tharp's Waterbaby Bagatelles (bottom). Photos © Angela Sterling, courtesy of Pacific Northwest Ballet.