PNB Soloist creates new work on company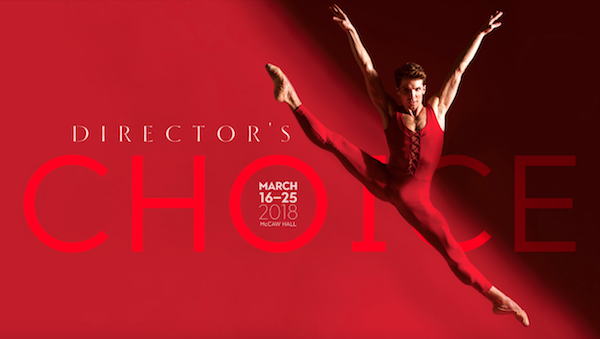 For the fourth offering of its 45th season, Pacific Northwest Ballet's Artistic Director Peter Boal has selected four contemporary works – a riveting duet, a favorite work, a little controversy, and a world premiere by company dancer Ezra Thomson – for PNB's perennially popular Director's Choice.
The limbs of a bonded pair sculpt open air in William Forsythe's Slingerland Duet, and pure athleticism surges like reverb from the electric violin in Ulysses Dove's Red Angels. Audiences have another chance to debate Forsythe's One Flat Thing, reproduced, as the dancers take cues from each other on, under and around 20 tables.
"Each of the three choreographers represented in Director's Choice was just that," said Boal in describing the line-up. "As young dancers, each demonstrated an interest and affinity for choreography. Their respective directors saw their potential and offered them the opportunity to choreograph for their company. Recognizing and rewarding potential and conviction will always be a priority of mine. Ezra Thomson's got it, and just as Marcia Haydee and Alvin Ailey saw the promise in William Forsythe and Ulysses Dove, I see it in Ezra. Together these three innovative choreographers offer a program that challenges, inspires and rewards."
Ezra Thomson's first work for PNB's mainstage is an autobiographical story of love and loss, and the feelings that linger in your life forever. It's set to music by Francis Poulenc and features costumes designed by Larae Theige Hascall and Thomson. Reed Nakayama is designing the lighting.
Director's Choice runs for seven performances only, from March 16 through 25 at Seattle Center's Marion Oliver McCaw Hall. Tickets start at $30.
For more information, contact the PNB Box Office at 206-441-2424, in person at 301 Mercer Street or online at www.PNB.org.
Image courtesy of PNB.
---