POP Performance: Women in Motion presents asubtout, Rebecca Stenn, Same As Sister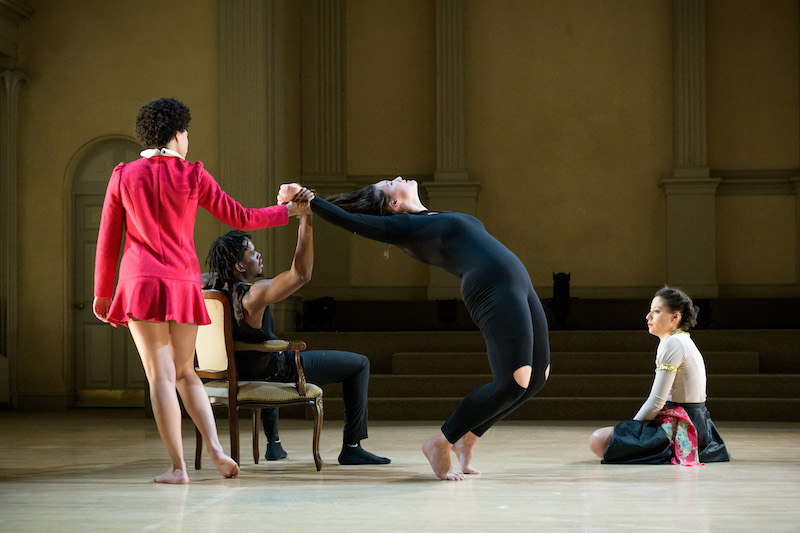 POP Performance: Women in Motion, produced by The Bang Group, from Thursday, January 30 to Saturday, February 1 at The Theater at Gibney, 280 Broadway NYC.
Brilliant, challenging and charming, Women in Motion 2019-2020 Commissioned Artists asubtout (Katy Pyle + Eleanor Hullihan), Rebecca Stenn, and Same As Sister (S.A.S.)/Briana Brown-Tipley + Hilary Brown-Istrefi bring their crafted, diverse ingenuity to the Gibney stage.
asubtout (Katy Pyle +Eleanor Hullihan)
The Centaur Show is a nouveau New Age fantasy death metal poperetta about two centaurs on an interstellar voyage to save their (non) binary star system from imminent supernova. Originally created by artists Katy Pyle and Eleanor Hullihan in 2007, 13 years later the pair return to their former personae as they look back on all the ways their world has already imploded, and stop to put on latex gloves to pick up the crystal shards of what remains. Featuring original live music, costumes, video and choreography by asubtout
The Oak and The Willow is a new duet choreographed by Rebecca Stenn and performed by Stenn and dancer Quinn Dixon. The original, commissioned live music score is composed and performed by Jay Weissman on electric bass.
Against the familiar yet anonymous backdrop of an IKEA store, the young Sámi protagonist of Same As Sister's "Kallax" will go on a journey of ascent into American celebrity. Performer, Kristina Hay, joined by the supporting cast of Leigh Atwell, Hilary Brown-Istrefi, Briana Brown-Tipley + Jamie Robinson, will encounter the aspirations, expectations, fears, and consumptions of our contemporary society.
For further information visit: www.thebanggroup.com
Image photographer: Ian Douglas