Pro dancers & skaters come together on ice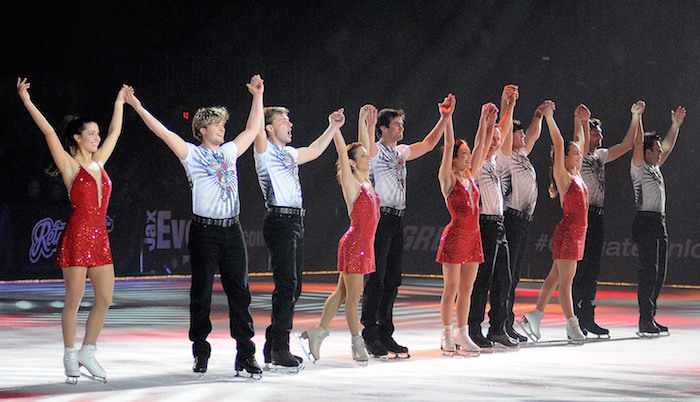 The star-studded Paul Mitchell Shall We Dance on Ice is coming to Bloomington, IL on Saturday, December 12. This special event will showcase a journey of dance through the ages with both dancing and skating, enhanced by music and special effects to create an elegant production on the ice.
The cast features the most decorated ice dancing team in U.S. figure skating history, 2014 Olympic Champions, two-time World Champions and six-time U.S. Champions Meryl Davis and Charlie White. Following the Olympics, Davis and White competed in the 18th season of ABC's Dancing with the Stars. Davis was crowned champion in May 2014 with her partner Maksim Chmerkovskiy while White was a semi-finalist with his partner Sharna Burgess.
In addition to Davis and White, the ice-dancing cast is scheduled to include: 2006 Olympic silver medalists, two-time World silver medalists, five-time U.S. Champions and 2010 U.S. Olympic team members Tanith Belbin and Ben Agosto; 2009 European Champion Bronze Medalists, seven-time British Champions and 2010 British Olympic team members Sinead and John Kerr; five-time U.S. Champions Naomi Lang and Peter Tchernyshev; 2014 European Champion Bronze Medalists and three-time British Champions Penny Coomes and Nick Buckland; three-time Canadian Bronze Medalists Alexandra Paul and Mitchell Islam; and two-time U.S. Bronze Medalists Kim Navarro and Brent Bommentre.
A new team skating for Israel will also be presented: Isabella Tobias (a 2014 Lithuanian Olympic team member) and IIya Tkachenko (a Russian national medalist.)
Professional dancers will include four partners/choreographers from ABC's Dancing with the Stars – Russian-born Dmitry Chaplin (also a Emmy-nominated choreographer on Fox's So You Think You Can Dance), American Chelsie Hightower (also Emmy-nominated and a former SYTYCD competitor), Anna Trebunskaya (ballroom studio owner in CA), and Australian Damian Whitewood.
This magical night will be hosted by 1992 Olympic gold medalist and Dancing with the Stars former champion Kristi Yamaguchi, along with 2015 Dancing with the Stars Champion, singer, actress and current lead in the popular and long-running Broadway musical, Chicago, Rumer Willis. Willis will take the place of the previously announced Dancing with the Stars 2014 Mirror Ball winner Maksim Chermkovskiy, who will no longer be a part of the show due to scheduling conflicts.
The show's director/choreographer is Douglas Webster, the founding artistic director of Ice Dance International. He has worked on over 45 full-scale productions in just under 10 years.
"Paul Mitchell is delighted to sponsor the Shall We Dance on Ice show," said Julie Solwold, vice president of Global Sports, Events & PR. "Bringing in exceptional talent… makes this star-studded show an elegant representation of art and creativity on ice, aligning beautifully with our brand. This unique event marries the best of both worlds for the enjoyment of skate and dance fans alike."
Tickets range from $28 to $78 and are on sale now. For information about the show, visit www.uscellularcoliseum.com or call the box office at 309-434-2679.
Photo: Ice skaters bowing after the Colgate Skating Series. Photo by Brittany Evans, courtesy of Disson Skating.