Project Dance announces 2013 events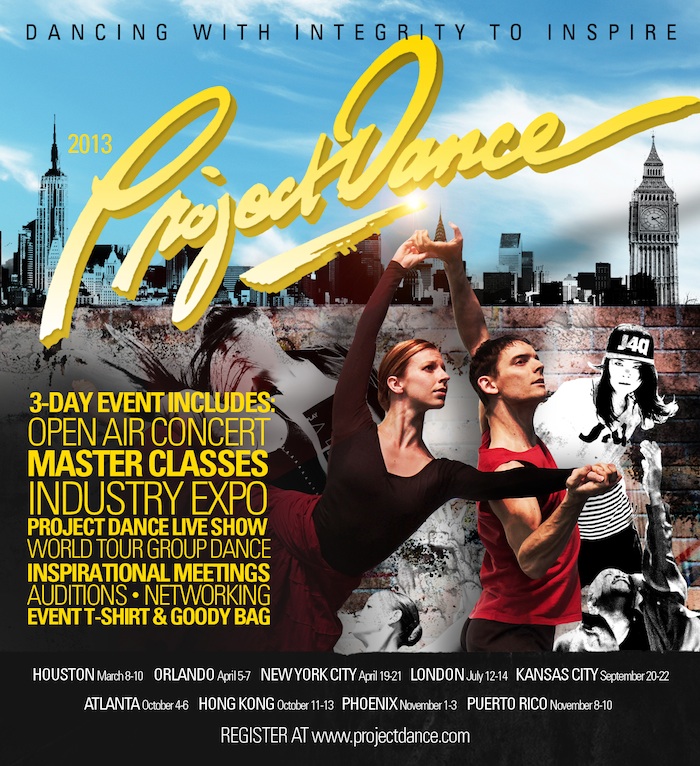 Project Dance is a movement of dancers seeking to positively impact culture through artistic integrity. Offering training, education, and performance opportunities for dancers worldwide, the organization's goal is to see every dancer nurtured to their fullest human potential.
Project Dance recently announced that it will host its New York City signature event in nine major cities in 2013. The event, which occurs over a three-day weekend, includes dance classes, motivational forums, networking and a free all-day dance concert held in a prominent downtown location. This year's cities include Orlando, Houston, New York, London, Kansas City, Atlanta, Hong Kong, Phoenix and Puerto Rico.
"The purpose of the outdoor dance concert is to share our talent with the public and to communicate a message of hope and healing through the language of dance," explained Cheryl Cutlip, founder of Project Dance.
Project Dance was born 12 years ago out of a desire to serve the people of New York City directly after the events of September 11th. Now, thousands of New Yorkers stop to watch the concert held each year on a temporary stage on the corner of 44th Street and Broadway.
Although the weekend is designed to give participants the opportunity to perform and take master dance classes, Project Dance also strives to inspire dancers as artists and individuals. Some of the activities over the weekend focus on the intersection of faith and art.
Project Dance is not a convention or competition but rather a life changing experience for dancers who desire to perform with integrity to inspire. The event is meant to equip and encourage dancers as they seek their calling in the world of dance.
For individual event dates or to register, visit Project Dance's website at www.projectdance.com. For specific questions, email info@projectdance.com.
Project Dance will be updating event details on it's website as they become available. Each city will have posted information about it's event and continue updating the page leading up to the dates.