PUSHfest calls for choreographers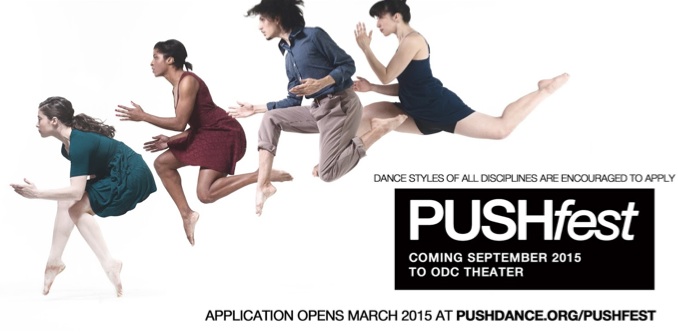 San Francisco-based PUSH Dance Company seeks existing and created dance works for the curated ​PUSH​fest ​set for September 18-20. The festival showcases 14 choreographers in two separate programs to take place in the state-of-the-art ODC Theater at 3153 Seventeenth Street (at Shotwell.)
The deadline for submitting discounted applications is March 20. The final deadline is April 17. On May 15, festival participants will be notified and one month later the participants will be publicly announced.
Emerging and mid-career choreographers are encouraged to apply. All dance styles and disciplines are welcomed.
The application fee is $35, with $10 off if choreographers register and pay by Friday, March 20. If accepted, choreographers must pay another $35 (for a total of $70) for their work if its five minutes or under in length. They must pay $105 (for a total of $140) if its eight minutes. These fees will help provide participating choreographers a video recording of the final performance.
For the PUSHfest online application, head to pushdance.org. For application inquiries, email info@pushdance.org.
PUSHfest grew out of a critical need to provide a platform for dance to be appreciated as a diverse and culturally relevant entity within the San Francisco Bay Area. Now in its second year, this unique festival offers a wide range of dance styles while inspiring dialogue and innovation. Part of the success of PUSH is its commitment to a widespread marketing campaign to highlight each artist involved.
In the spirit of the success of the first festival, the PUSHfest Award is a new entity that allows audience members to choose their favorite artists in each of the two programs. All artists will be awarded a finalist spot in the festival. The PUSHfest Award is a peer review and is chosen by the audience. Two artists will receive an award (one award given to one artist in each of the programs) and an honorarium.