Recession-Proof Your Dance Studio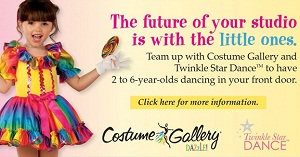 Costume Gallery and Twinkle Star Dance™ have partnered to ensure dance studio owners are able to recruit and retain the valuable 2-6 year old dancer population.
Twinkle Star Dance™ is an online subscription-based program that has proven to yield average revenue of $113,000 per season per studio. Marketing information is provided through the TSD website, along with monthly online instructional videos that keep the youngest students interested and challenged. Subscribers may choose from several packages such as "Curriculum", "Recital Choreography" or both. A customized, password protected online gallery of videos is created for each subscriber to view via computer, laptop or mobile device such as an iPad or iPhone.
Costume Gallery, along with Twinkle Star Dance™ designed the accompanying costume offerings, which include all the elements to satisfy studio owners, instructors, dancers and most importantly…their parents. They have paired over 45 Twinkle Star Dance™ recital choreography videos with age-appropriate, affordable costumes from the Costume Gallery catalog and website, www.CostumeGallery.net.
Twinkle Star Dance™ (www.TwinkleStarDance.com) was founded by Tiffany Henderson; owner of seven successful dance schools in California called Tiffany's Dance Academy. Henderson's studios, with more than 3,000 total students, survived the dot-com bust of 2000 and the latest 2008 – 2011 recession by focusing heavily on its recreational program called Twinkle Star Dance™.
Henderson says, "It's inevitable that there will be highs and lows in our economy and we must do everything we can to sustain our businesses for the long-term, no matter what the economic landscape looks like. We've found that the 2-6 year old dancers are our most loyal and consistent customers during economically difficult times."
The numbers don't lie. While dozens of dance schools nearby were closing these past few years, each of Tiffany's schools kept growing, averaging 140 Twinkle Star dancers between the ages of 2-6 each season. Those dancers are the most likely to keep taking classes during an economic downturn for two reasons. First, the monthly tuition for a typical Twinkle Star dancer is so affordable – in the $50 – $60 per month range, which is a lot less than the price of a Starbuck's coffee each day. The second reason is because the curriculum and actual dance class is so much fun for the dancers.
Henderson says, "Dance studio owners are incredibly busy and would rather spend their time in the classroom instead of leafing through dozens of catalogs looking for the perfect costume for a particular dance. I needed to make it possible for a busy studio owner to choose a cute dance for recital, have their instructor watch the video to learn the choreography, see a costume that perfectly matches the theme of the dance and move on to other important tasks."
Linda Bradbury, President of Costume Gallery says, "We are thrilled to be working closely with Tiffany and the Twinkle Star Dance™ team. Our visions are closely aligned and while Costume Gallery features styles for every age dancer, we know that it is vitally important for dance studios to consistently focus on developing their youngest dancers each and every season to ensure continued success."
The costume selections will be available to view in the 2013 Costume Gallery catalog as well as on company's website in August, 2012. They will also be featured on the Twinkle Star Dance™ website along with the actual recital choreography training videos. Additionally, the costumes will be on display at the Dance Teacher Summit in NY July 27-29, 2012 and at the Dance Teacher Web Conference and Expo in Las Vegas, NV August 6-9, 2012.