Relieve Stress During COVID-19 Through Virtual Dance and Wellness Classes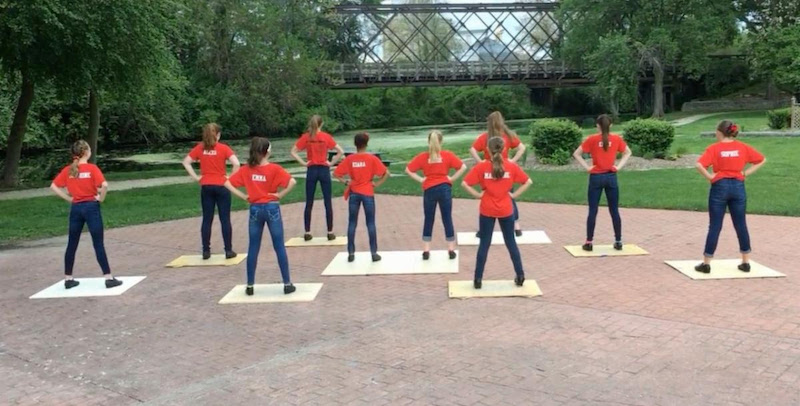 It is recommended that people take care of themselves by exercising regularly, stretching, taking deep breaths, or meditating according to The Center for Disease Control, the outbreak of the coronavirus disease 2019 (COVID-19). We have put together a list of dance and wellness experiences that you can watch, listen and enjoy this week.
Online classes, shows and events
Backyard Beauties dance daily
Watch Kirsten Bloom Allen who is a ballet dancer from San Diego who serves as the founder and principal dancer for ARC Entertainment Company and her two dancers and housemates Tigran Sargsyan, Magnus Christoffersen who have been living together under one roof in lockdown for the past four (plus) weeks (and counting) where they have been performing live in their backyard daily on Instagram (https://www.instagram.com/arcentertainmentcompany/ [nam03.safelinks.protection.outlook.com]) from Monday-Friday from 1-2PM (PST) dancing and creating original dances for the past several weeks. It's sure to bring a smile to your day. Here's a teaser of one of their backyard beauties; https://www.instagram.com/p/B_TyTaggJp0/
Mindset Moment: Psychology of Flow
We may be apart, but we can still be mindful together. The female quotient is fostering the sense of community through their Mindset Moment Series. Join them for these 15-minute virtual sessions, featuring health and wellness experts. The next event is about how to feel your best, perform your best and fulfill your potential with ease using the psychology of flow with Sarah Gregg, Author and Coach. Listen and watch this on Wednesday, May 20 | 3pm – 3:15pm EDT. For further information visit: https://www.thefemalequotient.com/events/mindset-moment-psychology-of-flow/
Dance Composition/Choreography Workshop:
Time for some professional development? This workshop is with Anabella Lenzu who is a dancer, choreographer, writer and teacher with over 30 years experience working in Argentina, Chile, Italy, London and the USA. The class is is about giving you the tools to create your own original dances, exploring the elements of composition, both for the stage as well as for dance films. Saturdays, June 6, 13, 20 & 27 from 11am-2pm New York Time- EDT, from noon-3pm Argentina & Brazil, from 5-8pm European Countries- CEST. Zoom details, registration and further information on the fee can be found here: https://www.anabellalenzu.com/workshops
Try Tap with Chicago Human Rhythm Project
If you'd really like to keep moving, join CHRP Founder and Director, Lane Alexander, for tap classes Mon – Thurs and a growing list of instructors. This weeks intermediate tap dance includes a warm-up, a short combination, a little history, and FUN with tap master, Lane Alexander. The costs ranges from $7-15. To find out more visit: https://www.eventbrite.com/e/tap-3-on-may-20-with-chicago-tap-master-lane-alexander-tickets-104574872258 or see the growing schedule and register Here.
Time for Tai Chi?
The Marblehead School of Ballet in Marblehead, Massachusetts is helping children, adults, and teenagers relax and reduce their stress during the COVID-19 pandemic through its new virtual classes and lessons with Tai Chi. In this class, they focus on the importance and benefits of cultivating calm and resilience. Teacher Leda Elliot trained under world-renowned grandmaster of Tai Chi, Master Bow Sim Mark of the Tai Chi Arts Association. She has taught meditation, Tai Chi and breath work for 25 years. To register for the school's virtual classes or to take a remote private lesson, visit http://marbleheadschoolofballet.com/the-school/schedule/ for further information.
Watch a dance visual mini doc about the insecurities that can arise in a Ballerina
The National Ballet of Canada's (first soloist) Tina Pereira, performs in this visual mini doc that touches on the insecurities that arise in a ballerina when faced with career threatening injury. This film was slated for a festival premiere this summer. After COVID19 hit, they decided to finish it up and release it to the public online instead. Perhaps it will be a welcome dose of inspiration while we are all homebound. You can view the film here https://vimeo.com/347156155
Cora Dance Virtual Concert
Join Cora Dance a NYC based teaching studio, on Wednesday, June 17 at 7pm when Cora will stream the Cora Dance Virtual Concert featuring performances by this season's students. Follow Cora on Facebook @CoraDanceOrg and save the date for June 17! Further information can be found here: https://coradance.org/cooped-up
Broadway Fridays on Lincoln Center At Home
Lincoln Center for the Performing Arts (LCPA) have announced Broadway Fridays, free online streams of some of the most beloved Live From Lincoln Center broadcasts of Broadway productions from Lincoln Center Theater and the New York Philharmonic, beginning this June. These archival broadcasts will be made available every Friday, beginning June 5, to June 19, 2020 at 8 p.m. EDT, on Lincoln Center's online arts portal #LincolnCenterAtHome and on Lincoln Center's Youtube and Facebook page.
Broadway Fridays include:
Rodgers & Hammerstein's Carousel with the New York Philharmonic
Friday, June 5 at 8 p.m. EDT
Lincoln Center Theater's production of
The Nance
Friday, June 12 at 8 p.m. EDT
Lincoln Center Theater's production of
Act One
Friday, June 19 at 8 p.m. EDT
Chicago Dancers United and See Chicago Dance wellness video
With health and wellness a constant priority in the dance community—particularly given the current circumstances surrounding the spread of COVID-19—See Chicago Dance (SCD), the dance industry's nonprofit service organization, is presenting Dance Health Month, a series of free programs and articles, in May. Video of their two earlier presentations are available at the links below:
• Taking Care of Your Mental Health During a Pandemic: Erica Hornthal, a board-certified dance/movement therapist and founder and CEO of Chicago Dance Therapy, led a discussion on mental health for dancers during the pandemic. She commented, "Movement is crucial for managing anxiety and stress. As dancers, it is even more important that we learn to use our bodies for self-expression." Video of this presentation is available here.
• Dancing Through Quarantine: Athletico physical therapist Chelsea Root offered health tips, management strategy, and effective exercises to stay performance-ready during this virtual world. Root provides on-site rehearsal and performance coverage for Visceral Dance Chicago and Steppenwolf Theatre Company and is a member of Athletico's Performing Arts and Pediatrics specialty programs. Video of this presentation is available here.
Join NDF in helping Taplife Hero Foundation for National Tap Day
You may like to join NDF in helping Taplife Hero Foundation celebrate National Tap Dance Day on Saturday, May 23rd! The event will take place via Zoom from 1pm-3:30pm (Eastern). There will be tap dance performances, live musicians, video "clips" and a Q&A session with a surprise prominent figure of the tap dance community. You can register to be a performer or to be an audience member. All of the classes as well as the big National Tap Dance Day Zoom Celebration are open for registration at tapdance.ticketleap.com
Listen to an Artists Talk by Battery Dance
Battery Dance will tap into its international network to host Artists Talks every Sunday at 9:00 AM (Eastern Time) with performers based in New York and from around the world, followed by Sunday classes in international dance genres such as Bharatanatyam dance from India, and African Fusion from South Africa. This week's Guests are: Malaysian Dancers, Choreographers, and Teachers Ramli Ibrahim (Sutra Dance Theatre) and Joseph Gonzalez (ASK Dance Company) who will speak on the topic: Dance in Malaysia: Past, Present, and Future. Visit: https://batterydance.org/timetable/event/artist-talk/
Image courtesy of Tap dance day