'Restless Creature' premieres at the Pillow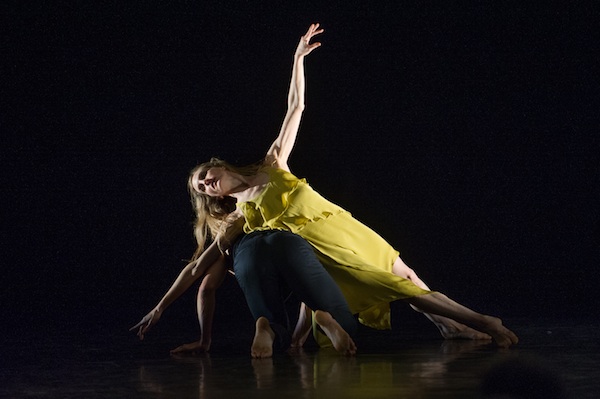 Wendy Whelan, principal dancer with the New York City Ballet, has joined forces with notable male dancers and choreographers Kyle Abraham, Joshua Beamish, Brian Brooks and Alejandro Cerrudo to create and co-present Restless Creature, premiering at Jacob's Pillow Dance Festival this Wednesday, August 14.
Wendy Whelan, dubbed as "America's greatest contemporary ballerina" by The New York Times, is widely recognized as one of the finest ballet dancers of our time. Having danced with NYCB for more than 25 years, she long ago mastered classics such as Swan Lake, as well as Balanchine's masterful neo-classical repertory and contemporary works by some of the world's greatest choreographers.
Now Whelan has branched out with Restless Creature, a highly anticipated collaborative project. Only at Jacob's Pillow this summer, the evening-length work pairs Whelan with four of today's top male choreographers – Kyle Abraham, Joshua Beamish, Brian Brooks and Alejandro Cerrudo. For the last few months Whelan has worked with each of these dancers to co-create a vibrant suite of four contemporary duets each with its own distinct style and artistry.
Abraham, recipient of the Jacob's Pillow Dance Award in 2012, is an acclaimed performer and choreographer known for his distinct movement style that merges the strength of hip-hop with the fluidity of masterful contemporary dance. Later this month, on August 21-25, his company returns to the Doris Duke Theatre to present Pavement.
Beamish, the director of MOVE: the company, is a leading contemporary ballet choreographer from Vancouver. As part of Whelan's Restless Creature, he returns to the Pillow after performing in last year's The Men Dancers: From the Horse's Mouth.
New York City-based artist Brian Brooks also joins the cast with Whelan. Known for detailed, rigorous contemporary choreography, he will bring fresh perspective and voice. He is returning to the festival after his company, Brian Brooks Moving Company, just finished performing in the Doris Duke Theatre on July 10-14.
Last, but not least, Whelan will partner with Alejandro Cerrudo, a dancer who has performed with acclaimed international companies including the Stuttgart Ballet, Nederlands Dans Theater 2 and Hubbard Street Dance Chicago. He is currently Hubbard Street's first resident choreographer and will present a work in their fall series.
Restless Creature will be presented Wednesday, August 14 through Saturday, August 17 at 8 p.m. and Saturday, August 17 and Sunday, August 18 at 2 p.m. Tickets range in price from $39 to $69. For more information, visit www.jacobspillow.org. Festival performances run through the end of August.
Photo: Wendy Whelan and Brian Brooks. Photo by Christopher Duggan, courtesy of Jacob's Pillow Dance.