Revolution leaps into new season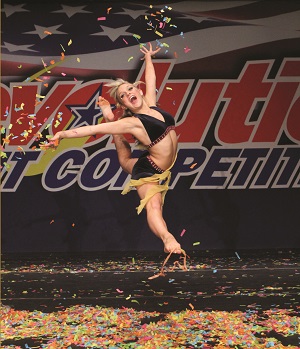 Entering its eighth year, Revolution Talent Competition continues to focus on providing an affordable dance event that excels in customer service and excellence. Leaping into 2015, Revolution will commence its season on February 6-8 in Indianapolis, Indiana and Baton Rouge, Louisiana. With 45 regional events and three nationals in total, the competition continues to grow and expand into new arenas.
Directed by Kacy Combs, Revolution offers three different levels (red, white and blue) with a separate scoring scale for each. The levels help dancers grow at their own pace with a scoring scale that is tiered for each level.
Dancers up to 19 years old can enter solos, duets, trios, small and large groups and lines. Any dancer age 20 and over must compete in the Adult Division. This applies to teachers, parents and all dancers. Entries must be submitted to Revolution's online registration by 21 days prior to the competition. All entries received within three weeks of the competition will be charged a 10 percent late fee.
Competition judges come from a diverse array of backgrounds and each have a variety of expertise in all areas of dance. They have worked in Broadway, commercial dance, as dance studio owners and as industry professionals.
For more information on Revolution's 2015 season, visit www.revolutiontalent.com. Save the dates for nationals too – June 29-July 3 at Long Beach Convention Center in California; July 8-12 at Schaumburg Convention Center in Chicago, Illinois; and July 15-19 at Sandler Center for Performing Arts in Virginia Beach, Virginia.
Photo courtesy of Revolution Talent Competition.