RIOULT Dance NY presents premiere in June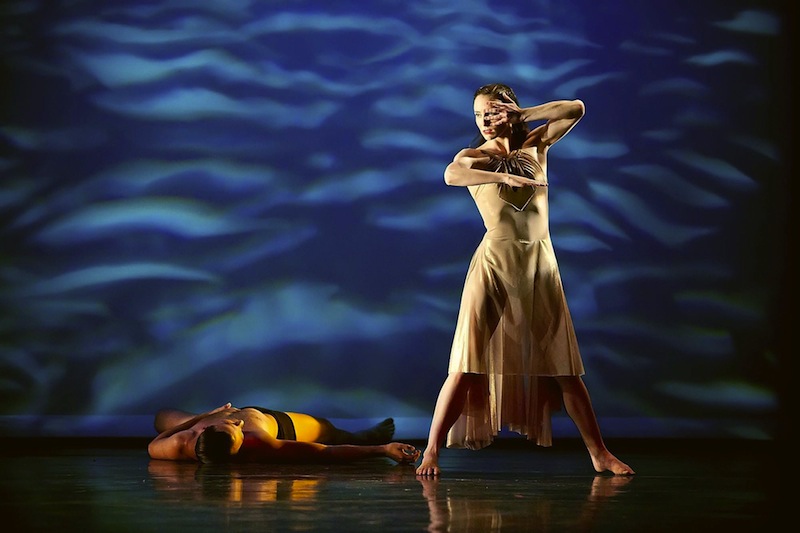 RIOULT Dance NY, a leading American modern dance company with a classic sensibility, announced its eight-performance New York Season June 4-9 at The Joyce Theater. The season includes the world premiere of Artistic Director Pascal Rioult's newest work, Iphigenia (working title), a dance drama inspired by the Greek heroine of the same name from Euripides' "Iphigenia in Aulis."
The piece was created in collaboration with composer Michael Torke and features his newly commissioned score, which will be performed live by the Camerata New York Orchestra. The season program also includes the critically acclaimed On Distant Shores (2011), the powerful Prelude to Night (2002) and one of the company's signature works, Bolero (2002).
Known for his musicality and explorations of classical scores, choreographer Pascal Rioult continues to develop new work annually through his Dance to Contemporary Composers Series. Conceived in 2011, the series engages choreographer-composer collaboration by commissioning living American composers to create music as accompaniment for a new dance.
The first work of the series, On Distant Shores (2011) re-imagined the Greek heroine Helen of Troy through a collaboration with Pulitzer-Prize winning composer Aaron Jay Kernis. This season's world premiere serves as On Distant Shores' companion piece, as it takes on another Greek heroine, Iphigenia.
On the creation of Iphigenia Rioult comments, "This collaboration will inherently push my boundaries since Michael Torke's aesthetic differs greatly from that of traditional, classical music which I often use. Still, I find his music ideal for dance because of its effusive energy, interesting rhythms and the visual imagery that colors its melodies."
"I see this dance as operatic," Torke said upon embarking on the project, "the chorus and ensemble sections provide the recitatives advancing the story, while the pure dance moments are like arias – stopping the action and allowing the emotion to be expressed." Torke's new score is based on a unique orchestration of eight instruments: two clarinets, two bassoons, two French horns, a cello, and contrabass.
Approaching its 20th anniversary in 2014, RIOULT Dance NY continues to provide audiences with dynamic performances by an extraordinary ensemble of dancers, many whom have been dedicated to the company for more than a decade – Brian Flynn, Penélope González, Josiah Guitian, Charis Haines, Jere Hunt, Michael Spencer Phillips, Jane Sato, Sara Elizabeth Seger, Anastasia Soroczynski, Marianna Tsartolia, Sabatino A. Verlezza and Holt Walborn. RIOULT Dance NY is led by husband-and-wife team, both former Martha Graham Dance Company principal dancers, Artistic Director/Choreographer Pascal Rioult and Associate Artistic Director Joyce Herring.
For tickets and performance times, visit www.joyce.org or call The Joyce Theater's Box Office at (212) 242-0800. Prices for performances start at just $10 and range to $49. A 20% discount for groups of 10 or more is available for the evening performances only by contacting groups@joyce.org or (212) 691-9740 x 208. Also, RIOULT Dance NY's Gala dinner will be held at The Altman Building on Wednesday, June 5. For more information, email gala@rioult.org.
Photo: RIOULT performs Pascal Rioult's On Distant Shores. Photo by Sophia Negron.