Riverdance's Final Dance in North America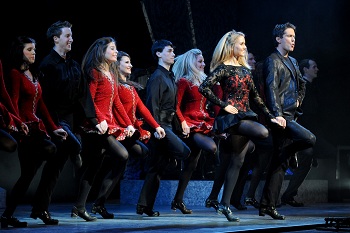 The producer of Riverdance, Moya Doherty, has announced that the United States touring production of the internationally-acclaimed worldwide phenomenon, will play its final performance on Sunday, June 17, 2012 at Wolf Trap National Park for the Performing Arts in Vienna, VA.
"When we opened Riverdance in New York in March 1996, we never thought for one minute that our show would still be running 15 years later," said Moya Doherty. "Three years ago we embarked on our farewell tour, saying good-bye to every city in North America we have ever played in over the years, and next June 17th in our 16th year this current production of Riverdance will end and we will say our final good-bye. It has been a source of immense pride for me as Producer that America took Riverdance to its heart to such an amazing extent and I would like to pay tribute to every dancer, musician, singer and all the crew and staff who served Riverdance so well over the years. "
The show that started it all, Riverdance, has been performing in the United States since March, 1996 when it had its U.S. premiere at Radio City Music Hall in New York. Since then, the show has tapped its way onto the world stage thrilling millions of people around the globe. While the touring production in the U.S. will close on June 17, 2012, productions of Riverdance will continue to tour the world.
Photo: Craig Ashurst and Chloey Turner of Riverdance. Photo by Jack Hartin