'Rockin' In Rhythm' tap showcase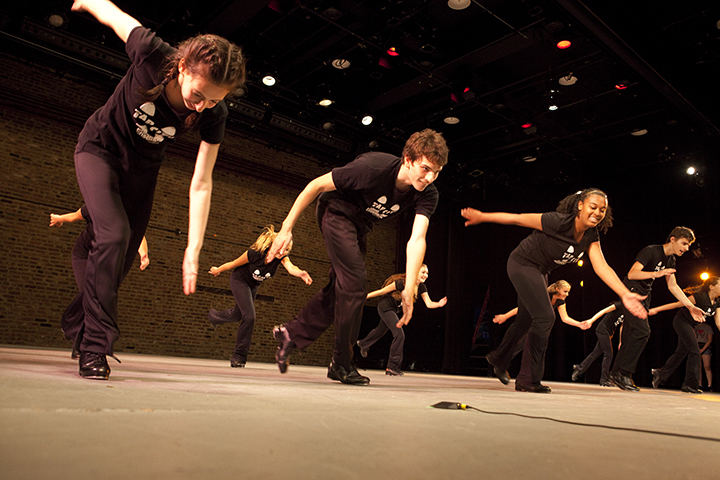 The American Tap Dance Foundation brings together dynamic and diverse youth tap ensembles from across the country to share the stage and present their best works in Rockin' in Rhythm this weekend.
Featured performers include the North Carolina Youth Tap Ensemble, The Legacy Dancers, Capitol Tap and The Tap City Youth Ensemble. Live music and guest artists will add to the performance as these dynamic dancers take the stage and rock it with rhythm.
The North Carolina Youth Tap Ensemble, based out of Chapel Hill, NC, is currently celebrating its 30th anniversary season. Featuring 40 dancers, ages 8 to 18 years old, the company is known to tear up the floor with poise, passion and professionalism. The ensemble brings a fun, youthful energy to its choreography, often set to contemporary music. Founded by JUBA award-winning artistic director Gene Medler in 1983, the group is known for its two famous alumnae, tap virtuosos Michelle Dorrance and Jason Janas.
The Legacy Dancers, hailing from Lexington, MA, is also recognized for its dancers' youthful charisma. A nationally recognized, pre-professional dance company for dancers ranging in age from 12–18 years old, the company performs regularly at such venues as Boston's Hatch Shell and the National Heritage Museum.
Washington DC-based Capitol Tap is sure to also bring a good show. Working in the rhythm tap modality, Capitol Tap guides tappers between the ages of 9 and 25 through improvisation, closed classes with internationally-respected guest artists and a wide knowledge of tap's rich history. According to their website schedule, the dancers recently performed at the First Annual IMT Kids and Family Talent Show and in Cabaret at Workhouse Arts Center in Virginia.
Finally, the Tap City Youth Ensemble, led by the American Tap Dance Foundation, will present works by its intermediate and advanced tap dancers, ages 11 to 19. The ensemble is directed by Susan Hebach, with mentorship by Brenda Bufalino, Margaret Morrison and Tony Waag, and allowed to work with professional choreographers to learn classic and contemporary tap repertory.
Through these companies' performances and many more, Rockin' in Rhythm should present a smash-hit show this Saturday, February 16 at 7:30 p.m. at Peter Jay Sharp Theatre at Symphony Space. Tickets are $25 the day of the show with discounts for members, students, seniors and children leading up to it.
For more information or to book tickets, visit www.atdf.org.
Photo: 2012 Rockin' in Rhythm performance. Photo courtesy of the American Tap Dance Foundation.