Ron De Jesus Dance presents 'Hyper Human'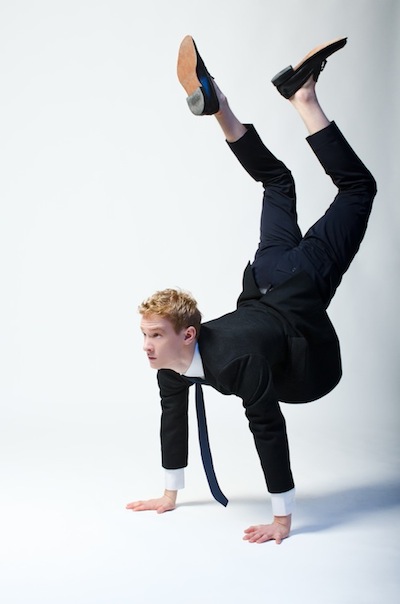 Ron De Jesus Dance will present its first full evening of dance in Chicago on April 25 and 26 at the Ruth Page Center for the Arts. Hyper Human is a mixed repertory program featuring six works by notable guest choreographers Arte Phillips and Benjamin Millepied, in addition to RDJD Artistic Director and Chicago native Ron De Jesus. Acclaimed Chicago jazz vocalist Paul Marinaro will perform live the score for a world premiere suite of dances by De Jesus, called Without a Song… Mic Check 1, 2.
The titular work Hyper Human is one of two additional world premieres on the program, choreographed by De Jesus to music by Ben Frost and Ralf Hildeneutel. The work is inspired in part by the choreographic process itself, and how it has helped De Jesus find inner calm.
De Jesus says, "As a child and professional dancer, I was always told to calm down. At times even my feverish foot tapping under the table was 'too much.' I call my anxiety 'the dangerous animal,' and this work addresses how the craft of choreography has helped me tame it."
The complete Hyper Human program includes: the Chicago premiere of the 22-minute work Triade, created in 2010 by Benjamin Millepied, choreographer of the film Black Swan and incoming director of ballet at the Paris Opéra; the short world premiere work of Leather Tongues – 50/50, choreographed by De Jesus and featuring special guests Benjamin Wardell and Michel Rodriguez Cintra of Chicago's The Nexus Project; the world premiere of the 30-minute work Without a Song… Mic Check 1, 2, choreographed by De Jesus and introducing vocalist Paul Marinaro; the short trio Secret Garden by Arte Phillips, originally premiered at Broadway Cares/Equity Fights AIDS in New York City; and an excerpt from …and in the endless pause, they came by De Jesus, which investigates landscapes of the future and subconscious, set to music by Scanner.
Millepied's Triade, set to music by celebrated composer Nico Muhly, will be a special treat. It honors influential choreographer Jerome Robbins (West Side Story) and pays tribute to his neoclassical and contemporary creations for New York City Ballet.
Hyper Human will be presented for two performances only on April 25 and 26 at 7:30 p.m. at the Ruth Page Center for the Arts, located at 1016 North Dearborn Street in Chicago. Tickets are $25-50 and are available online at ruthpage.org.
For more information on Ron De Jesus Dance, visit www.rondejesusdance.org or facebook.com/RDJDance.
Photo by Kyle Froman.