Rudolf Nureyev exhibit in San Francisco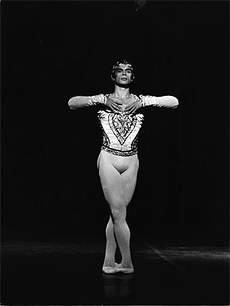 Recognizing the 20th anniversary of famed ballet dancer Rudolf Nureyev's death, the de Young Museum in San Francisco's Golden Gate Park recently opened the exhibit Rudolf Nureyev: A Life in Dance.
Organized in collaboration with the Centre national du costume de scène in Moulins, France and the Fine Arts Museums of San Francisco, the de Young is the exhibition's exclusive U.S. venue.
"You live as long as you dance," was Nureyev's mantra throughout his rise as an internationally acclaimed dancer, choreographer, ballet master and company director. In celebration of the remarkable art and career of this legendary performer, the de Young is presenting more than 70 costumes from ballets danced or choreographed by Nureyev—Swan Lake, The Nutcracker, and Manfred among them—as well as a selection of photographs, videos and ephemera that chronicles his illustrious life.
"The objects in the exhibition are the witnesses to his real life—they make up the daily luggage of this eternal traveler, of this rootless soul who found his identity in dance studios, rehearsal rooms and on stages around the world," said Delphine Pinasa, the director of the Centre national du costume de scène.
Reflecting Nureyev's lifelong obsession with the details of fabric, decoration and stylistic line, the costumes in this exhibition represent every period of his long career.
As a meticulous performer, Nureyev demanded costumes that were not only beautiful, but precisely engineered to suit the physical demands of his dance. He also loved sumptuous decoration, and these costumes reflect his refined aesthetic and his fantasias of embroidery, jewels and braid.
"Rudolf worked very closely with designers and no detail was too small. Lengthy discussions encompassing world history and the history of art, design and performance were part of creating his ballets," said Jill D'Alessandro, Fine Arts Museums of San Francisco's curator of costume and textile arts.
Nureyev's dramatic escape from the Soviet Union in 1961, combined with his dashing good looks, sensual energy and the triumphant success of his ballets, made him an international sensation by the age of 23. This exhibition highlights how he was part of the intense new celebrity culture taking hold in the early 1960s.
"Nureyev was considered ballet's first pop star," D'Alessandro said. "From his very first appearances on stage at Covent Garden, 'Rudimania' set London ablaze."
Like Mick Jagger and John Lennon, Nureyev drew adoring crowds and was constantly photographed, and he was an enthusiastic participant in the '70s nightclub scene and international jet set. Nureyev was a demanding innovator with little patience for those who clung to what he judged as outmoded tradition.
The costumes detail a long period during which Nureyev transformed dance, breathing new life into classic ballets like Swan Lake and Romeo and Juliet. Credited with breaking barriers between modern dance and classical ballet, he was also responsible for bringing the male dancer back to the forefront, thereby reversing decades of tradition.
As D'Alessandro said, "Nureyev's work meant that men's roles were no longer subservient to women's. His unique combination of artistry, technical precision, electric stage presence and musicality thoroughly transformed male dancing in the West."
Although Nureyev's life was cut short by sickness in 1993, Nureyev had fulfilled a long career as a dancer, an iconoclast and a celebrity. Yet, perhaps above all he had lived every moment in service to his craft.
The exhibit Rudolf Nureyev: A Life in Dance, bears witness to the details of his uncompromising personality through the relics of his practice, and offers an intimate view of the man behind the grand gestures, a man, as Mikhail Baryshnikov said, who "…had the charisma and simplicity of a man of the earth, and the inaccessible arrogance of the gods."
The exhibit will be shown through Feb. 17, 2013. Museum admission is
 $20 for adults and $10 for youths, with various discounts applying. For more information, visit the de Young's website at deyoungmuseum.org.
Photo: Rudolf Nureyev in La Bayadère at the Palais Garnier in 1974. Photo by André Chino, courtesy of CNCS and the de Young Museum.