Russian National Ballet Theatre bring Swan Lake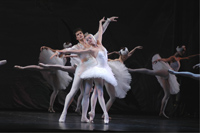 Brooklyn Center for the Performing Arts at Brooklyn College concludes its 2010-2011 World of Dance series with the internationally acclaimed Russian National Ballet Theatre's interpretation of Swan Lake on Sunday, April 17, 2011 at 2:00pm.
With its fairy tale story of a beautiful princess, a passionate prince, and the evil spell that threatens their happiness together, Pyotr Ilyich Tchaikovsky's Swan Lake was composed in 1875 as a commission by Vladimir Petrovich Begichev, the head of the Russian Imperial Theatres in Moscow. Like The Nutcracker, Swan Lake was unsuccessful after its first year of performance. Conductors, dancers and audiences alike thought Tchaikovsky's music was too complicated and difficult to dance to. The production's original choreography by German ballet master, Julius Reisinger, was considered uninspiring and unoriginal. After Tchaikovsky's death, the ballet was reconceived by legendary choreographers Marius Petipa and Lev Ivanov. This version, most familiar to today's audiences, has become one of the most beloved full-length ballets of all time.
Photo: Russian National Ballet Theatre's Swan Lake, photo courtesy of Columbia Artist Theatricals