San Francisco Ballet perform Nutcracker this December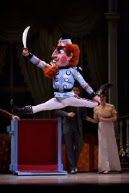 San Francisco Ballet (SF Ballet) presents the 75th anniversary of America's first full-length Nutcracker with a myriad of events and giveaways this holiday season, culminating in performances of Artistic Director and Principal Choreographer Helgi Tomasson's set-in-San Francisco Nutcracker, danced to Tchaikovsky's timeless score, December 11 ̶ 29, 2019 at the War Memorial Opera House.
On Christmas Eve, 1944, SF Ballet presented America's first full-length Nutcracker at the War Memorial Opera House, before making stops in Oakland, Sacramento, and Stockton—giving California the country's first taste of "Nutcracker fever." In the 75th anniversary season, SF Ballet celebrates the Bay Area's Nutcracker legacy beginning October 10, when the "75 Days of Nutcracker" countdown kicks off across SF Ballet's online platforms. Throughout the countdown, SF Ballet will give away 75 pairs of Nutcracker tickets and signed pointe shoes, share exclusive 75th anniversary Nutcracker stories, and invite users to reconnect online over their own Nutcracker memories.
On November 3, Exploring Nutcracker brings together Joan Coffey-Caton Vickers and Janet Sassoon Upton, members of the original 1944 production; a panel of Claras from past SF Ballet Nutcrackers; and UC Irvine's Jennifer Fisher, PhD, Nutcracker scholar and author of Nutcracker Nation, to discuss the ballet's influence on San Francisco and beyond.
On December 10, Nutcracker characters will appear at Holiday Heroes at Oracle Park, and on December 11, Claras and other student performers from the past 75 years of SF Ballet's Nutcracker will attend the opening night performance, filling the Opera House with historic numbers of SF Ballet School alumni who have taken on the roles of Clara, soldiers, party children, and more.
For a full list of all the events this December visit their website here: sfballet.org/nutcracker
Image courtesy of SF Ballet