San Francisco Dance Film Festival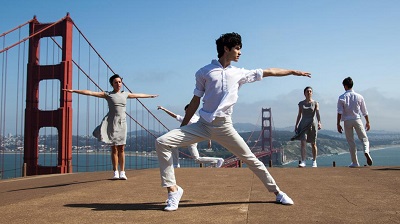 The San Francisco Dance Film Festival will kick off Thursday, September 12 with a collection of international screendance shorts being shown at The Roxie Theater.

Running through Sunday, September 15, the festival has announced that the program line-up will present a total of 49 dance-based films, as well as 21 additional documentaries and performances available on viewing stations at the Museum of Performance + Design on September 12-30. These films come from around the globe and will be shown at the various film premieres, parties, social events and panel presentations that celebrate the creative spirit of screendance.

Greta Schoenberg, SFDFF Executive Director says, "We're thrilled to be able to support so many filmmakers this year, and to have so many films by local artists make the cut, both with our committees here and with the IMZ team in Austria. It will be an incredibly unique opportunity to gather the community —brought together through all of our partners—for this unprecedented dance film event in the Bay Area."

The San Francisco Dance Film Festival was established in 2010 to give the Bay Area a much-needed platform for the presentation and further development of dance-based films. The Festival seeks to bring dance to wider audiences and supports interdisciplinary collaboration among artists by providing opportunities for education and creative exchange.

Photo: 'Golden Gate 3D' was previously presented at the San Francisco Dance Film Festival. Photo courtesy of Fountain 3 Films.