Satellite Collective Announces Online Exhibition of Worldwide Game of TELEPHONE, Involving Nearly 1,000 Artists – Now Available Online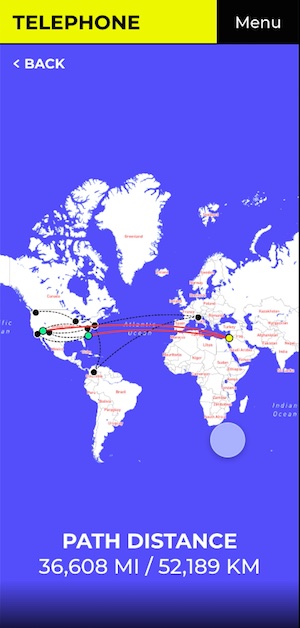 More than 950 artists from 70 countries played a game of TELEPHONE, in which a message was passed from art form to art form. The message could become a poem, then a painting, then a film, then a dance, as it was passed 7,177,703 kilometers between 489 cities. An interactive, online exhibition of these hundreds of original, interconnected works debuted to the public for free on Saturday, April 10, 2021 at 9am EST at https://phonebook.gallery/. This particular game of TELEPHONE was started on March 23, 2020 and will be available after running for 383 days.
In a few short years, Satellite Collective has fearlessly styled multiple seasons of dance, music, film and word to their vision. Under the leadership of Kevin Draper, Satellite has launched young choreographers, composers, film makers, poets and artists with an uncanny sense of timing, tapping into an intense scene of NYC artists from New York City Ballet, Juilliard, Alvin Ailey American Dance Theater, and Bowery Poetry Club.
Only a handful of staff members know the original message of TELEPHONE. The participating artists are only aware of the work that directly preceded their own, and do not know how their own work was translated or further translated in subsequent. When TELEPHONE becomes publicly available, it will be the first time that any of the artists get to see the exhibition in full.
Satellite Collective (satellitecollective.org) incubated the first generation of Telephone with Nathan Langston, and partners now with TELEPHONE as a select group of artists from the game join the Satellite Collective Fellows.
It's possible to consider TELEPHONE as a presentation of nearly 1,000 individual and original works of art. It's equally valid to view this exhibition as a single work of art by people from across the Earth. Regardless, the result is the largest data set of ekphrastic artistic exchange in history. Ekphrasis is the process of translation of one art form into another. This helps us better understand each art form, the neurological processes at work in translation, and how information is passed from person to person. The second half of the game employs synthesis, allowing us to study how artists combine multiple influences simultaneously.
Satellite Collective under Kevin Draper has focused on a select group of TELEPHONE artists, launching these Spring 2021 Fellows with the opening of Telephone this April. The Satellite Fellows program will expand from NYC to a national footprint in 2021.
To learn more about Satellite, visit: www.satellitecollective.org and www.transmission.satellitecollective.org
Image courtesy of SC