Saying Goodbye to 4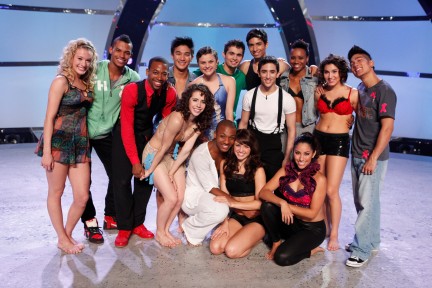 Wadi Jones, Iveta Lukosiute, Missy Morelli and Nick Young eliminated on So You Think You Can Dance.
After last week's unprecedented save, finalists Wadi Jones, 24, a Breaking dancer from Ossining, NY; Iveta Lukosiute, 30, a Ballroom dancer from Klaipeda, Lithuania; Missy Morelli, 20, a Jazz dancer from Arvada, CO; and Nick Young, 19, a Tap dancer from Franklin, WI, were eliminated on last night's So You Think You Can Dance.
The three couples who received the fewest votes tonight were: Missy Morelli and Wadi Jones; Iveta Lukosiute and Nick Young; and Ryan Ramirez and Ricky Jaime. Judges Nigel Lythgoe and Mary Murphy, along with guest judge Debbie Reynolds, asked the six finalists to perform solo routines and then eliminated Jones, Lukosiute, Morelli and Young.
This week's results show featured performances by Rage Crew and electro-hip-hop recording duo LMFAO with hip-hop dance crew Quest Crew. It was also announced tonight that the winner of So You Think You Can Dance will appear in a Gatorade print ad campaign and will be featured as a G Series FIT Team Athlete online, in addition to being crowned America's Favorite Dancer and winning the $250,000 cash prize.
The competition continues next week when the Top 16 finalists – Jordan Casanova, Alexander Fost, Tadd Gadduang, Marko Germar, Ricky Jaime, Mitchell Kelly, Chris Koehl, Caitlynn Lawson, Jess LeProtto, Miranda Maleski, Sasha Mallory, Melanie Moore, Clarice Ordaz, Ryan Ramirez, Ashley Rich and Robert Taylor Jr. – compete for America and the judges, including Emmy and Tony Award winner Kristin Chenoweth, who appears as the week's guest judge, on a two-hour live performance show.
Photo: SO YOU THINK YOU CAN DANCE: The top 16 contestants on SO YOU THINK YOU CAN DANCE airing Thursday, June 23 (8:00-9:00 PM ET/PT) on FOX. ©2011 Fox Broadcasting Co. Cr: Adam Rose/FOX