Screening of Tanaquil Le Clercq documentary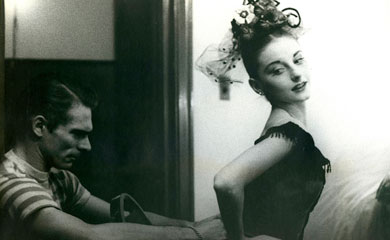 The organization Words on Dance recently hosted the San Francisco premiere screening of the documentary "Afternoon of a Faun, Tanaquil Le Clercq," directed by Nancy Buirski. But not to fear! If you missed this special event, this documentary following the legendary muse of choreographer George Balanchine will be screened again on Wednesday, April 9 at the Aero Theatre, located at 1328 Montana Avenue in Santa Monica, California.
Co-presented by the American Cinematheque and Dance Camera West, this screening of "Afternoon of a Faun, Tanaquil Le Clercq" will also feature a post-show discussion featuring director Nancy Buirski.
The beautiful documentary tells the incredibly inspiring and tragic tale of ballerina Tanaquil Le Clercq. Through archival footage and interviews, this documentary captures the artistry and vibrant personality of one of the seminal figures of 20th century ballet. It covers Le Clercq's life from working with Balanchine and Jerome Robbins to her bout with polio and beyond.
The documentary really begins when Clercq was in her teens, when her lithe physique and expressive movement caught the eye of School of American Ballet founder George Balanchine. Le Clercq became a muse to Balanchine (who eventually married her) as well as to fellow choreographer Jerome Robbins. But in 1956, at the peak of her career, she was heartbreakingly stricken with polio and never danced again.
Reviewer Godfrey Cheshire wrote, "Many documentaries about ballet and its practitioners, even the very best, understandably appeal mainly to a core audience of dance aficionados. Nancy Buirski's mesmerizing, beautifully crafted 'Afternoon of a Faun: Tanaquil le Clercq' proves a striking exception to that rule. While it does profile the work of brilliant dancer, the film also contains two complex and moving love stories as well an account of a physically devastating tragedy followed by an extraordinary tale of struggle and survival."
To see the Santa Monica screening, book tickets at www.americancinemathequecalendar.com.
To see a trailer for the documentary, visit the film's site at www.afternoonofafaun.com.
Photo: Ballerina Tanaquil Le Clercq backstage. Photo courtesy of American Cinematheque.