SELMADANSE to present 'Emerge Dancing'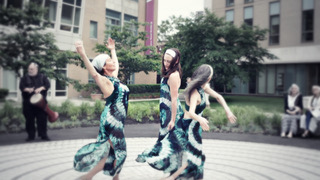 Massachusetts-based modern dance company SELMADANSE, Joanie Block and Dancers will present its latest production, Emerge Dancing, this October 14-15 at the Green Street Studio Theatre in Cambridge, MA. Emerge Dancing is a cross-cultural collaboration of dance and music showcasing the richness of Jewish and Muslim cultures.
The production will feature five dances, punctuated by text from the Torah and Quran and performed by artists from Jordan, Israel, Morocco, Syria and the United States. Together, they aim to illustrate the impact of fear and what is possible when the heart and mind are open.
"Having witnessed a blanket of darkness descend on America over these last several months, my choreography has taken an urgent detour away from other projects," says Joanie Block, founder and artistic director of SELMADANSE. "In their place is Emerge Dancing, the goal of which is to highlight the beauty of our cultures and our shared desire for love and acceptance. Dance and music can reach us in ways that ordinary language cannot. When communication becomes difficult, when people stop listening and impenetrable walls begin to form, art can open doors. It is a way in."
Performances of Emerge Dancing will take place Saturday, October 14 at 8 p.m. and Sunday, October 15 at 6 p.m. Tickets are $25 for adults and $20 for seniors/students/members of Boston Dance Alliance. Following each performance will be a Q&A, during which audience members will have an opportunity to engage in a dialogue with each other and the performers.
Dancers include Joanie Block, Emily Bloomenthal, Julie Leavitt, Che Madyun, Soumaya MaRose, Melinda Rothstein and Debbie Stringham.
To purchase tickets for SELMADANSE's Emerge Dancing, visit emergedancing.brownpapertickets.com. For more information on the company, head to www.selmadanse.com.
Photo: SELMADANSE. Photo courtesy of Joanie Block.