SENSEDANCE premieres new pas de deux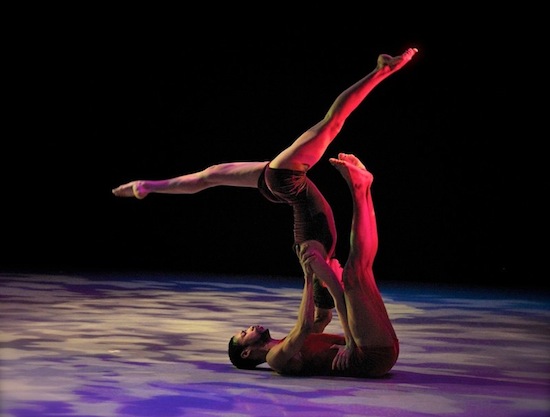 Henning Rübsam's SENSEDANCE will present TWO BY TWO – SENSEDANCE in an evening of new pas de deux on Saturday, November 23 at 8:30 p.m. and Sunday, November 24 at 6 p.m. at Salvatore Capezio Theater at Peridance, located at 126 East 13th Street in NYC. The program will present various premieres celebrating Rübsam's 22nd year as founding artistic director of the ensemble.
The dancers for the season are Nathan Bland, Cynthia Dragoni, Uthman Ebrahim, Heidi Green, Erin Ginn, Temple Kemezis, Oisin Monaghan, Juan Rodriguez, Henning Rübsam, Jacqueline Stewart and Matt Van.
Works will include inventive partnering on and off pointe. Rübsam, the resident choreographer for Hartford City Ballet, will create never-before-seen choreographic pieces that will showcase his contemporary dancers.
On faculty at The Juilliard School and a visiting guest artist at Texas Academy of Ballet, Rübsam is influenced choreographically by his mentors Martha Hill and Elizabeth Keen. He is also inclined to call upon his modern experiences with the Limón Dance Company. Rübsam has appeared as a guest dancer with a myriad of other contemporary choreographers as well, and in works of dance pioneers Isadora Duncan and Doris Humphrey. Among Rübsam's citations are a Jerome L. Greene Fellowship, a Lincoln Center Fellowship, a Manhattan Spirit Award for "Best Male Dancer," a choreography award from Stephens College, an award for his advocacy from Dancers Responding to AIDS and the Distinguished Artist Award from Bergen College, the first time this award was given to a dance artist.
Last year, SENSEDANCE represented the U.S. at the Danza Nueva Festival in Lima. Rübsam has been a guest choreographer and teacher for numerous companies and universities throughout the Americas.
For TWO BY TWO, tickets cost between $22 and $44.They are available by calling SmartTix at (212) 868-444. For more information, visit www.sensedance.org.
Photo: SENSEDANCE in performance. Photo by Jan La Salle.