SF Ballet's 'Kaleidoscope' program onstage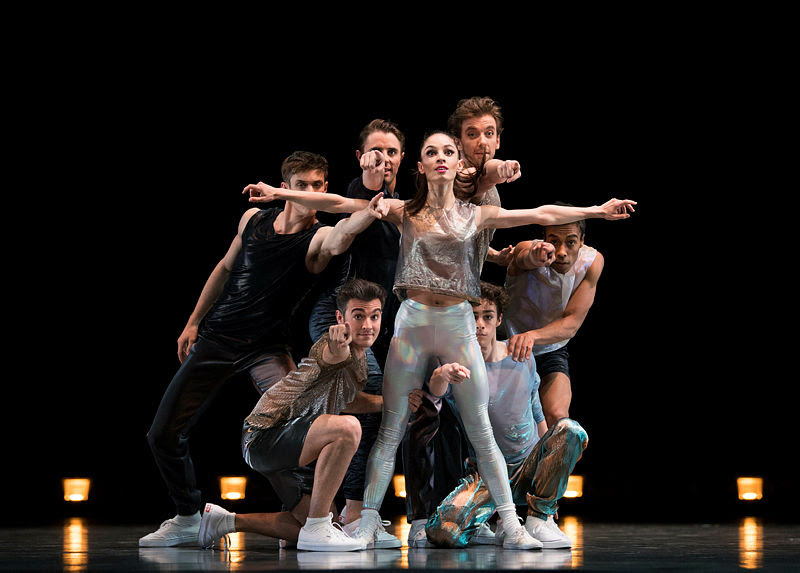 San Francisco Ballet opened Program 02, Kaleidoscope, on February 12, with performances running through this Saturday, February 23 at SF War Memorial Opera House. Kaleidoscope features the SF Ballet premiere of Benjamin Millepied's Appassionata, and the returns of Justin Peck's Hurry Up, We're Dreaming, created for Unbound: A Festival of New Works in 2018, and George Balanchine's Divertimento No. 15.
Balanchine's 1956 Divertimento No. 15, last seen at SF Ballet in 2012, opens the program. Set to music by Wolfgang Amadeus Mozart, Divertimento No. 15 typifies the choreographer's neoclassical style. Derived from the Italian "divertire" ("to amuse"), the divertimento exhibits 18th-century play in music and in Balanchine's opinion, Mozart's work was the best example of the genre ever composed. The score's six movements set the stage for diverse groupings of eight principal dancers—five women and three men—and an additional ensemble of eight women. Paired with costume designs after Karinska and lighting design by Mark Stanley, Balanchine's crystalline choreography results in a resplendent display of virtuosity and musical sensitivity.
The SF Ballet premiere of Benjamin Millepied's Appassionata, set to Ludwig van Beethoven's Piano Sonata No. 23 in F minor, continues the program. Appassionata premiered in 2016 at Paris Opera Ballet under its original title La Nuit S'Achève ("The Night Ends"). With scenic design by Camille Dugas, costume design by Alessandro Sartori and lighting design by Jim French, the ballet pairs three couples, each of whom embodies the breadth of emotions present in romantic love. Millepied's choreography fluidly transitions between pas de deuxs and turbulent, meticulous ensembles, supported by the "Sturm und Drang" on display in Beethoven's score.
Kaleidoscope closes with Tony Award winner Justin Peck's Hurry Up, We're Dreaming, returning to SF Ballet after the 2018 Unbound: A Festival of New Works. Peck's second commission for SF Ballet, Hurry Up, We're Dreaming is set to music by LA-based electronic music band M83 and features dancers in sneakers dressed in streetwear designed by Reid Bartelme and Harriet Jung, with lighting designed by James F. Ingalls. While the choreography is rooted in classical forms and training, Peck says he always sees how far he can "push the envelope." Included in The New York Times's "Best Dance of 2018" list, Hurry Up, We're Dreaming shows that "Mr. Peck means to shake up the norms of ballet, its partnering, gender, footwork. Surely good news for us all."
For more information, visit www.sfballet.org.
Photo: San Francisco Ballet in Justin Peck's Hurry Up, We're Dreaming. Photo by Erik Tomasson.