Shuttered mid-tour, Ice Dance International offers free streaming specials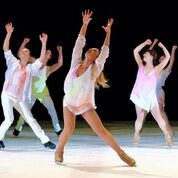 Ice Dance International (IDI) cancelled the second half of its 2020 multi-state U.S. tour due to ongoing restrictions related to coronavirus mitigation. But U.S ticket-holders who missed out on seeing "IN FLIGHT: LIVE" – and those who want another look at the company's gliding mix of art and sport — can watch its two television specials streaming free on demand this week at
www.icedanceinternational.org
"
IN FLIGHT: The Art of Ice Dance International
" (2019) – Shot on-location on an outdoor rink in Sun Valley, Idaho, and hosted by IDI Executive Director
Douglas Webster
, "IN FLIGHT" streams on demand from Friday, April 3 at 7 am (EST) through Saturday April 4 at 7 pm. (EST, 4 PM PST) The show includes six contemporary and classical ice dances, with choreography by Webster, and dancemakers
Benoit Richaud
and
Trey McIntyre
. The music spans pop, jazz, and classical pieces. "IN FLIGHT" features interviews with
Edward Villella
and Richaud, as well as Olympian and U.S. figure skating and ice dance champions
JoJo Starbuck
,
Judy Blumberg
and
Ryan Bradley
.
"The World of Ice Dance International"
(2018) – Shot on-location on an outdoor rink in Sun Valley, Idaho and hosted by skating stars
JoJo
Starbuck
and
Ryan Bradley
, "The World of IDI" streams Saturday April 4 at 7 pm (EST, 4 pm PST) through Monday, April 6 at 8 pm (EST, 5 pm PST). The show features contemporary and classical ice dances, with choreography by IDI Executive Director
Douglas Webster
and ballet superstar
Edward Villella
. The music ranges from Tchaikovsky pieces to works by electronic icon Moby. "The World of IDI" features appearances by skating icons
JoJo Starbuck
and
Dick Button
as well as interviews with Villella,
Judy Blumberg
, and
Ryan Bradley
.
"IN FLIGHT" and "WORLD of IDI" are produced by Ice Dance International and distributed by American Public Television. Both have been seen on public television stations across the USA.
Image by Dougal Webster