Siberian dance company in rare NYC show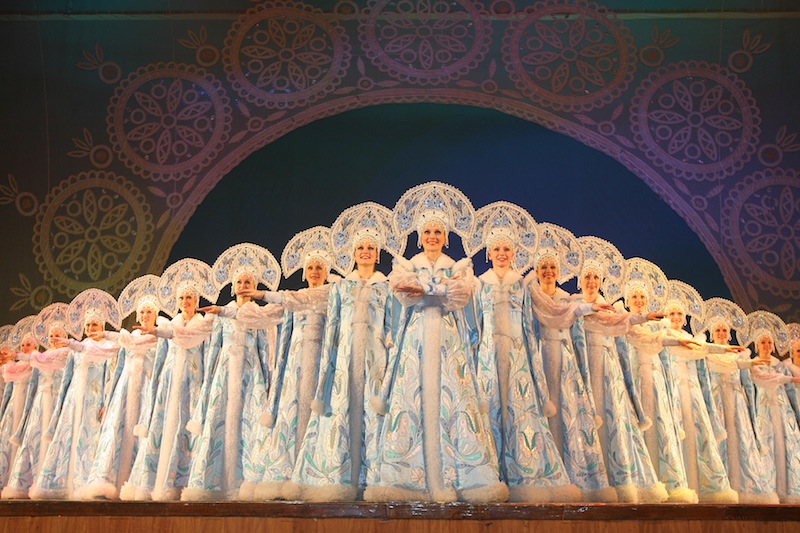 The Krasnoyarsk National Dance Company of Siberia will perform for one night only in New York City at 8 p.m. on Saturday, February 1 as part of the 2013-14 season of Brooklyn Center for the Performing Arts. Like a Russian fairytale come to life, this company of 55 dancers and musicians incorporates colorful folkloric costumes, thrilling choreography, and an orchestra of national folk instruments as it celebrates the rich cultural heritage of its native Siberia.
The Krasnoyarsk National Dance Company of Siberia was founded in 1960 by Mikhail Godenko, who served as director for more than 30 years. An experienced and talented choreographer, Godenko created a repertoire of dances in collaboration with the company's musical director, composer Vladimir Kornev, Merited Artist of Russia, whose deep knowledge of Siberian folklore and dance were key in weaving music into the fabric of the overall performance. The company's elaborate costumes, based on traditional regional designs, were created by Yelizaveta Akselrod, Merited Worker in Art of the Tuva Republic, and Boris Knoblok, Vladimir Mamontov and Paulina Korotkova, Merited Workers in Art of Russia. The company is currently led by Artistic Director Vladimir Moiseev.
In addition to regular performances across Russia, the company has toured internationally to more than 60 countries, including Vietnam, Algeria, Tunisia, Australia, Japan and Vietnam, as well as throughout both Europe and Latin America. This will be a return trip to the United States. After a previous NYC performance, The New York Times wrote, "The dancers, who seemed to number in the hundreds in full-company pieces, were charmingly wholehearted and skillful."
To see the Krasnoyarsk National Dance Company of Siberia, order tickets by phone at 718-951-4500 or online at BrooklynCenterOnline.org. Tickets range from $36 to $45.
Photo: The Krasnoyarsk National Dance Company of Siberia in performance. Photo by Dmitry Sharov.