Signed Pointe Shoes to Fight Child Slavery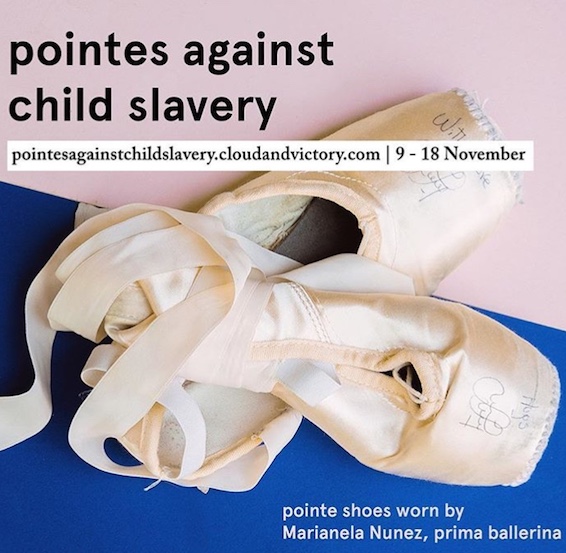 Cloud & Victory, an ethical dancewear and ballet brand for dancers, recently launched its newest initiative – Pointes Against Child Slavery. Through this Saturday, November 18, dancers can purchase a pair of pointe shoes from their favorite ballet dancer and contribute to the fight against child abuse.
Cloud & Victory pledges that all proceeds raised from this fundraiser will go towards NGOs working towards child welfare and fighting to end child slavery and exploitation. The beneficiaries include Destiny Rescue, a U.S.-based organization fighting to end child slavery and sexual exploitation in Thailand, Cambodia, the Dominican Republic, the Philippines and India; and The Promiseland Project in Nepal, an organization seeking to build a school and orphanage in the town of Dhamphus to shelter, raise and nurture the poor and orphaned children there.
The signed pointe shoes come from dancers like American Ballet Theatre Principal Isabella Boylston, Boston Ballet Principal Ashley Ellis, English National Ballet First Artist Precious Adams, and The Royal Ballet First Artist Demelza Parish.
Shop the signed pointe shoes now at pointesagainstchildslavery.cloudandvictory.com.
Note that every purchase will also come with a 15% discount voucher to the Cloud & Victory store. Cloud & Victory ships worldwide.